Pretty Little Liars' Fashion Don'ts and Dos
B
esides watching old reruns of The Hills, one of my favorite guilty pleasures is Pretty Little Liars. Perhaps it stems from my early adoration of Nancy Drew, but I am obsessed with these four teen sleuths who stiletto around school and say things like "he's your boyfriend, not a baby squirrel." I am fascinated by the mysterious city of Rosewood, where your mom can be your teacher and the only after-school activity is looking for clues.
I used to admire the individual styles of each girl: Aria with her pink hair and Free People wardrobe, Hanna's impressive heel collection, Emily's enviable tan and Spencer's tendency to dress like my mom would have wanted me to dress in high school… I guess I really didn't ever like Spencer's style repertoire.
Case in point: my mom would love this. —>
No jean skirts allowed!
But this season has brought a lot of twists and turns, not only in the insane plot but in the closets. What is going on with these girls? I'm still not sure what happened to Hanna and Aria's hair. Did 'A' chop it off in their sleep? Aria can kind of pull it off, but Hanna's lack of locks really disturbed me. Not to mention that in the handful of episodes that have aired this season, we've seen everything from overalls and jean skirts to a mismatched ensemble that looks like it was made from a grandmother's curtains.
I'm not complaining about the fashion or recent lack there of; rather, I am genuinely concerned. I know firsthand how influential a television wardrobe can be. I wanted to look JUST like Melissa Joan Hart from Clarissa Explains It All when I was young and watching The OC is like a flashback to my high school closet (SO much Abercrombie). I don't want girls of today chopping their hair off and wearing their grandmother's curtains to school; or worst of all a JEAN SKIRT. I was a lover of the denim mini back in the day but those days are long gone, and since I've already given all of mine to Goodwill I hope it stays that way!
<— There are no words.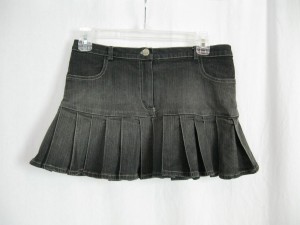 Step it up, Pretty Little Liars. Not just for my eyes but for the tweens of the world. AND because I refuse to dig through the bins of Goodwill to find my pleated, jean skirt from BEBE.
I refuse. —>