New Designer Adrienne Sparkman Hall talks about launching her first line Noble Elizabeth and the women who inspired its classic look
O
ctober the 9th marked the capsule launch of Noble Elizabeth, the first line from one of Dallas' newest designers Adrienne Sparkman Hall.  Adrienne, whose prominent Dallas family has made many historical contributions to the city, was influenced early on by the classic and affluent style of her grandmothers Audrey Noble Hawn and Elizabeth Higginbotham McKee who were the corner stone of inspiration for the Noble Elizabeth line. Their influence could easily be seen this Wednesday as the models descended the staircase of Aldredge House and took their place on individual stands for a presentational style fashion show.
  The presentation consisted of three rounds, each round spotlighting a different set of outfits from the Noble Elizabeth line. The pieces mixed feminine cuts with strong yet graceful patterns and luxurious fabrics that made you want to go up and feel the various dresses, shirts and pants, which guests were encouraged to do. Details such as gloves and accessories from Bohem Unique Gems  added classic sophistication to the overall outfits and made me hopeful that gloves will once again be in the daily fashion repertoire of stylish ladies everywhere.
As a new designer Adrienne is just getting started and she's starting off strong. With a line that allows for every day wear in our present time but still retains the classic elegance of past generations, I'm looking forward to seeing what she creates in the future for the Dallas woman who's goal is to feel confident and look classy.
After the show I got a chance to talk to Adrienne about her intricate family history, grandmothers' best fashion advice and what it was like planning and executing her first fashion show.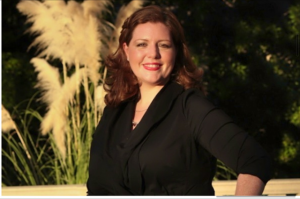 1.Your capsule launch was held at the Aldredge House on Swiss Ave.  Your family has contributed a lot to the development of Dallas and were involved in building many of the structures on Swiss Avenue, tell us a little about your family history and what you hope to bring to Dallas with your designs.
My Great, Great Grandfather Joseph M. Higginbotham started the main wholesale distribution company in Texas; Higginbotham- Bailey and Higginbotham-Pearlstone.  HB is located in downtown Dallas and is now known as Founders Square. HP is located in the West End and is know now as Market City Place. Both of these building were warehouses used to sell wholesale soft/hard goods throughout Texas. Rufus Higginbotham (my great grandfather) continued running the business until 1983. Rufus built a home for his family about one block down from the Aldridge House; 5002 Swiss Avenue this is the home that my grandmother Elizabeth grew up in. Elizabeth Higginbotham married Bill Sparkman of the Sparkman Funeral home in Dallas. The original Sparkman funeral home was the Belo Mansion on Ross Avenue, which was the location where Bonnie and Clyde Barrel were brought after being shot to death. The funeral home was later moved to the location that Dallas knows of today; Sparkman Hillcrest on Northwest Hwy. Elizabeth divorced my grandfather Bill Sparkman and became Elizabeth Higginbotham Mckee.
Audrey Noble Hawn, my other grandmother, also comes from a successful Dallas family and was also an SMU beauty! As you can tell there is a lot of family history that I am very proud of and I could go on forever but in a more simplified version of what I have written above is that a fun way to think of my heritage is kind of like "royalty"; old successful Texas families who married!
The inspiration of Noble Elizabeth comes from two influential women in my life, Audrey Noble Hawn and Elizabeth Higginbotham McKee, my grandmothers. These women had an amazing taste for high-end fashion that was both timeless and distinct. Audrey's wardrobe had a very elegant tailored look with unique stylized lines, while Elizabeth's wardrobe was slightly audacious in spirit, full of bold colors and relaxed fits. Together, these looks define and market to the women who are in love with designer fashion that includes posh detailing and luxurious fabrics. As the designer of Noble Elizabeth I want to bring a creative vision to the brand through femininity and sophistication while preserving tradition and luxury. I hope that Noble Elizabeth brings women confidence, beauty and excitement!
2. You graduated from Savannah College of Art and Design with a BFA in fashion design and minor in fibers, was fashion design something you had always wanted to pursue or did you have other interests that led you to it?
Not only did I grow up in a small town in East Texas (Athens) but I was also homeschooled. I never really had to deal with the daily pressures of "what was trendy or not" in fashion. It wasn't until I turned 15 that my grandmother Audrey "Noble" gave me my very first subscription to Vogue magazine. Around that time I started asking questions about fashion design and later discovered that I could actually attend fashion design school.  Audrey and Elizabeth were constantly keeping me stimulated with fashion whether it was through watching classic black and white films or flipping through the latest Neiman Marcus catalog. I have always painted and enjoyed creating art; by the age of 17 I started illustrating my own designs and learning how to sew on my grandmother's 1958 singer (capitalize) sewing machine! I have always been passionate about fashion and I have never wanted to pursue anything else. Fashion keeps me excited and happy.
3. You spent time in Paris, Milan and Barcelona after graduating, what did you take away from that experience in terms of inspiration and learning more about design?
During my time at SCAD, I studied abroad in Europe and the experience was amazing! I lived in a medieval village within the southern province region of France called Lacoste. I traveled to the three fashion capitals of Europe: Paris, Milan and Barcelona. I had the opportunity to tour the Yves Saint Laurent (YSL) foundation, visit several different trade shows such as Bread and Butter Barcelona and Pret and Porter Paris and attend several high-end fashion shows… The main focus while in Europe was learning and understanding the skill of trend forecasting. Now, when I design I use the techniques I learned in Europe and apply them to my creative vision.
 4. Audrey Noble Hawn and Elizabeth Higginbotham McKee, your grandmothers, are the inspiration for you collection, what was it about their style that made such an impression on you? Were there any particular outfits or designers that they would wear that stood out to you? Did they give you any style tips when you were growing up?
Earlier I talked a lot about my grandmother's distinct styles. Audrey was always a loyal shopper to Neiman Marcus; Oscar de la Renta and Channel was what I saw the most in her closet. Audrey was a lover of the dress suit and hourglass silhouettes because she was so petite; that woman never went without a heel on! Elizabeth traveled a lot so the majority of her clothing was from all over; she loved bright fun colors. Elizabeth had a serious passion for costume jewelry, Santa Fe, New Mexico turquoise, sterling silver and Concho belts. If Elizabeth was in love with a garment she would buy it in every color! After both of my Grandmothers passed away I was able to keep amazing pieces that I still use in my wardrobe today. I learned from both women how to combine their different looks and create my own, and how to dress in the most flattering way; no matter what size I am.
5. What are your hopes for the Noble Elizabeth line?
My hope for Noble Elizabeth is that with success the line will have the opportunity to grow and evolve into the spirit of not only my grandmothers but of all women who appreciate timeless fashion.
6. Through your designs you can see that you enjoy a touch of vintage in women's fashion. Do you like seeing that same element in men's fashion as well?
Yes!! Love it! Maybe there should be a line called Noble Arthur
 7. How do you feel about your capsule launch and the experience of putting it all together?
Everything has been an amazing experience; school could not have prepared me enough for what I have learned through the process. I am so blessed to be working with such amazing people like Jenny Seide from In Style Exchange who guided me every step of the way! I am very pleased with the line and the launch was amazing. Dallas is a wonderful place to grow in the fashion industry!
 8. When women are getting dressed in the morning what is something you feel they should always keep in mind?
Being well-dressed influences other people to see you as competent, capable, and smart, as well as helping you feel more confident about yourself. Keeping color and fit in mind start with the basics and build. Once you have that, begin to build with accessories. As Coco Chanel once said "Get yourself fully dressed and then, before walking out the front door, pause by the mirror and remove one item."  Remember confidence. It's the most important thing a woman can have. Keep a smile on your face; and always keep your chin up and look straightforward when you are walking.
9. If you could go back in time and raid anyone's closet whose closet would it be?
Without any doubt it would be Coco Chanel!!!
Photo of Adrienne Sparkman Hall courtesy of Heather Lettieri