TOOTSIES Welcomes Designer David Peck
T
his week, February 13-14th to be exact, TOOTSIES Dallas will be hosting an in-store appearance with David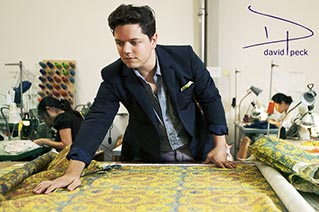 Peck to showcase his 2013 Spring CrOp collection. To put into perspective just how exciting it is that TOOTSIES will now be carrying  David's CrOp collection, let's talk a little about the designer.
Peck began his artistic career by attaining a degree in classical cello after which he studied fashion design in Paris at the Parsons School of Design. During this time Peck received both the Junior Year Silver Thimble award as well as the Top Designer award for his senior collection. While in Paris he worked for renowned fashion houses such as Paco Rabanne, Junichi Hakamaki and Robert Normand.
In 2008, Peck headed to New York where he co-founded and co-designed the high-end women's clothing line, Untitled 11:11. The line quickly became popular among celebrities such as Taylor Swift, Lauren Conrad and Rose McGown for both its design aesthetic and eco-concious design process. Fast-forward to 2010, when Peck moved to Houston to be closer to his family and was inspired to create and launch CrOP. Whew! Did you get all that? Needless to say Peck has got some designer chops.
Now that we've talked about Peck, let's get into more detail about his most recent line, CrOp, and why you should be at TOOTSIES next week to check it out. Since its creation, Peck has been dedicated to developing CrOp into a socially conscience brand that keeps environmental sustainability at the forefront of the design process. This has earned Peck a reputation throughout the fashion world as one of the premier designers of sustainable fashion.
But it's not just Peck's social awareness that has people talking; it's his design aesthetic as well. Described as blending European chic with American sensibility, Peck continuously strives to maintain his sustainability practices while staying fashion forward.
So for all of you who actively try to be stylish and socially conscious, the David Peck event at TOOTSIES is calling your name. It will be a great chance to meet the man behind these beautiful designs and support his efforts. The 2013 Spring CrOp collection will also be featured in this year's Salvation Army Women's Auxiliary Open Your Hearts, Open Your Closets event on Wednesday, February 13th.
Here David Peck discusses his work with Fashion Group International and how it has helped him in achieving his goals as a designer.