Six Ways to Start Your Week Off Right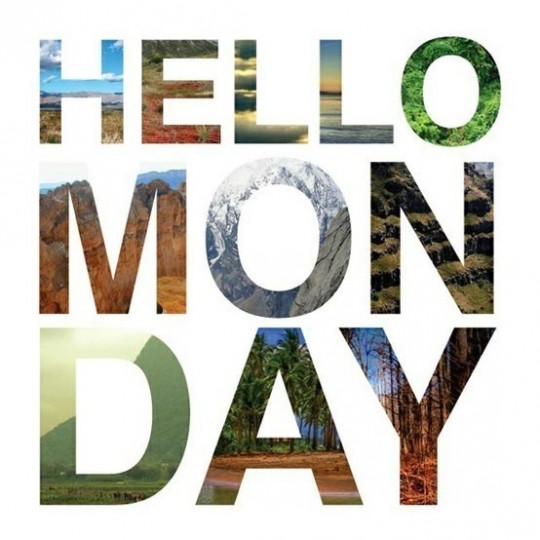 "
It looks like you have a case of the Mondays".  Never have truer words been spoken.  Monday can be the hardest day of the week for most, since our motivation to return the grind dwindles over the weekend.  There are ways to ease yourself into the swing of things, though.  These six inspirations will hopefully help you add a little spring in your step as your walk to your desk or send those kiddos off to school.
1. Get Moving.  I know, I know….who wants to get out of bed first thing on a Monday morning?  But the sooner you stretch out those aching muscles and get your adrenaline pumping, the sooner your brain will function like it's a Tuesday.  If you belong to gym, hit the machines or classes early before work to get your blood flowing.  Take a relaxing yoga class to center your mind before the Monday morning meetings or rush of the day.  Even a short walk around your block or some simple stretches in your bedroom before breakfast will do the trick.
2. Make a "To-Do" List.  I don't particularly like making lists myself, but the addition of note-making apps and printable to-do templates have made this less of a chore. (Print out a free one here.)  Once you are able to prioritize your day, then your week, and finally, make weekend plans….you can relax a little.  It's all there, in plain sight.  You can check off each to-do as you get it completed, and then reward yourself with something small to celebrate the achievement.  I typically allow myself a Reeses Peanut Butter Cup or a 10-minute break on one of my favorite blogs when I complete small tasks.  For the bigger ones, how about treating yourself to a sushi dinner, a new blouse, or perhaps a 20 minute nap?
3. Compliment Someone.  If you want your week to start off on the right foot, compliment someone around you.  Friend, family member, stranger…doesn't matter.  We all like to hear genuinely nice things, so why not put it out there to make someone else's Monday a little easier?  The more often you make this a daily practice, the more you'll realize when it happens to you.  Taking in good, kind thoughts makes our world a little better and our week a little sweeter.
4. Give Yourself a Weekend Treat.  Think up something fun you can do in the upcoming weekend, and make that your goal to get through your hectic work week.  Make plans to see a movie with a friend, arrange to go to the dog park, go shopping, sleep in until noon…whatever makes you smile and will feel good.  If it's been a particularly stressful week, why not plan to take a mini-road trip to get away for the weekend?  Going to places like King Spa with various heated saunas or treating yourself to a nice massage can be wonderful ways to wind down and feel rewarded.
5. Admire.  Take a few moments on Mondays to read something inspirational about someone you admire.  If you want to emulate someone who does what you do for a living, focus on what tools they used to reach their goals and how you might be able to do the same.  Realize that they have the same kind of Monday blues as you do, yet they've overcome them and broken through and reached a level of success that is attainable.  Search online for bios, official websites, and news articles about the person you admire to pump up your motivation.
6. Socialize Smartly.  Don't depress yourself by sitting behind a desk in isolation or inside your home with no friendly contact.  We were all created to be in relationships with others, and our mood shifts to a darker place when we don't make friendly communication a priority.  No, Facebook and Twitter DO NOT count.  We need actual, not virtual, interaction.  Without being a nuisance or distracting others in the middle of their work, just make quick small talk with co-workers when it's appropriate.  Ask a friend to grab lunch, head to the gym for a quick workout with a buddy, or arrange to do a casual happy hour after work.  Socialization doesn't have to mean long, drawn out conversations or forced networking.  If you need help getting the ball rolling, you can find some great conversation starters here.
Monday might not be the day we look forward to most, but it can be a springboard for a week of focused accomplishment. I think you should reward yourself with a latte for reading this all the way through.