Halloween Homemade Treats: Peanut Butter Oreo Brownie Bar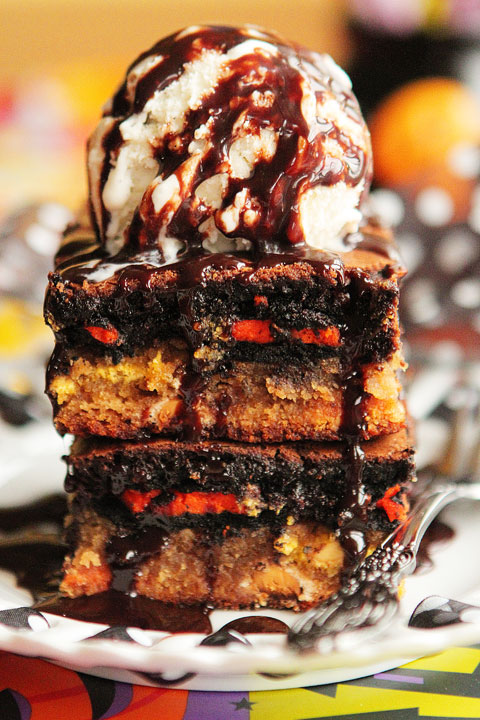 A
fter so many great responses to the S'mores Pie recipe posted earlier this month, it only seems fitting that one more delectable recipe be available to those of you who are in the mood to bake deliciously sweet treats for Halloween.  Today's sinful recipe comes from the super cool site KevinandAmanda.com, and it's not only simple to make, but is sure to become a family tradition after you take just one bite. Plus, it contains a secret to make your boxed brownie mix taste much, much better. (Check out the blog for that secret!)
Enjoy it's gooey, chocolately goodness!
Ultimate Halloween Peanut Butter Oreo Brownie Bar
1/2 cup butter, softened
1 cup peanut butter
1/2 cup white sugar
1/2 cup brown sugar, packed
1 egg
3 tablespoons milk
1 teaspoon vanilla extract
1 1/4 cups all-purpose flour
3/4 teaspoon baking powder
1/4 teaspoon salt
1 (9.9 oz) pkg white chocolate candy corn M&Ms or 1 cup Reese's Pieces
1 pkg Halloween or Double Stuffed Oreos
1 Family Size (9×13) Brownie mix
1/4 cup hot fudge topping
Preheat oven to 350 degrees F. Cream the butter, peanut butter, and both sugars in a large bowl with an electric mixer on medium speed for 3-5 minutes. Add the eggs, milk and vanilla and beat until dough is light and fluffy. In a separate bowl, whisk together the flour, baking powder and salt, then slowly add to the mixer until the flour is just combined. Stir in M&Ms. Spray a 9×13 baking dish with cooking spray, line with wax paper, and spray with cooking spray again. Spread the cookie dough in the bottom of the dish. Top with a layer of Oreos. Mix together brownie mix, adding an optional 1/4 cup of hot fudge topping to the mix. Pour the brownie batter over the cookie dough and Oreos. Bake at 350 degrees F for 45-55 minutes, until a toothpick inserted 2″ from the edge comes out with moist pieces clinging to it.