Your own hair bow
R
emember back when Lady GaGa was just starting to take over the pop music world with songs like Just Dance and Poker Face? Back when we hadn't quite seen the full potential of her fashion imagination and the most unique thing she did with her hair was this little hair bow thing.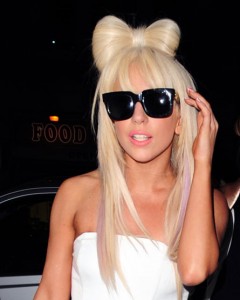 Soon after little things like this got popular.
Yes, the "hair" bow was all the rage there for a while. You could buy them in the color of your own hair or in any color of the rainbow, either way I was never that fond of the trend. Clipping bows, big or small, made out of fake hair to your own just never looked that stylish to me and I've been pretty happy with the fading popularity of the trend. That is until I found Kate's tutorial on her blog Running On Happiness. What about Kate's hair bow made me change my mind and want to try one? The simple fact that she used her own hair to make the bow and the end result looked very chic and elegant. Check out her tutorial below and see how easy it is to recreate her hair bow look.
See, isn't that easy? This up-do is pretty versatile as well and can be worn with anything from a fun summer outfit, classy evening dress or just lounging around the house with a cup of coffee and a book .
Images of Lady GaGa and hair accessories courtesy of google images 
Hair tutorial images courtesy of RunningOnHappiness.com