How to Throw an Arrested Development Viewing Party
I
f you've had the season 4 release of Arrested Development on your calendar since the day the gods of television announced it, than you're probably more than down to throw a viewing party so awesome, you'll blue yourself.
There are too many memorably moments and running jokes (see them all listed out in this brilliant interactive visualization) to reference them all, but here are a few things that are worthy of a terrible chicken dance, and, of course, a drinking game worthy of a wink from Lucille.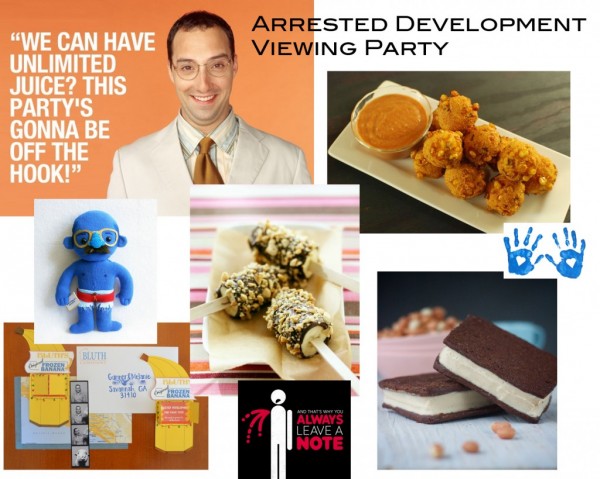 What you'll need:
The Invites
Banana stand-themed Invitations. If you've got doller bills to spare, include some cash, that way there will literally always be money in the banana stand. Check out Moss & Mint for more inspiration.
The Food Situation
You don't have to travel to Mexico to pick up a cornballer on the black market, Bluth Family Cornballs can be made in any deep fryer. The clever Dan Whalen of The Food in My Beard shares his cornball recipe that will result in a ball of corn similar to a hushpuppy. My good friend Elizabeth of Bonjour+Hola once cooked some kick ass ceviche with Dan, so you know these puppies will be good.
But "man cannot survive on hot ham water alone!" I stole that from Martha Stewart's blog, which is also where I stole this recipe for frozen, chocolate-covered bananas. Who knew Martha was such an AD fan? She has plenty of great menu ideas for an Arrested Development party including Vodka Cocktails, Mexican Hot Cakes, Blue Man Cocktails, and even some flavorful fruit juice.
We have to include something for the patriarch of our favorite fam, so here are some ice cream sandwiches that will have you screaming "No Touching" to any food thefting friends. This recipe for Peanut Butter Ice Cream Sandwiches from ManifestVegan.com is (0bviously) vegan-friendly, so even the pickiest of your friends can get in on the fun.
The Party Favors
 Offer guests this "and that's why you always leave a note" t-shirt from RedBubble.com. It's a graphic t-shirt that's pretty graphic.
Everyone should have one these Tobias Funke blue man, never-nude dolls by Michelle Coffee of Deadly Sweet (on Etsy). Even if you don't snuggle with him every night, he'd make for a great conversation starter.
The Drinking Game