FGI Career Day Fosters and Inspires Rising Stars in the Fashion Industry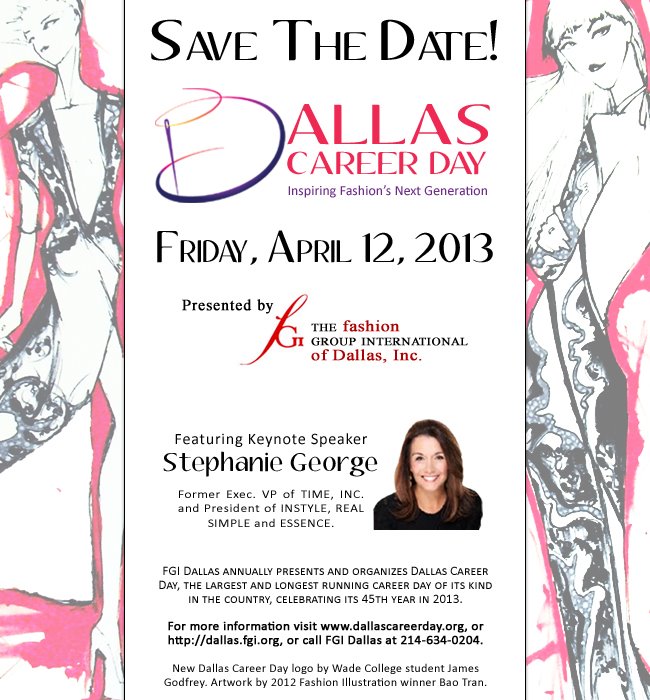 F
or 45 years, Fashion Group International of Dallas' Career Day has attracted thousands of fashion and lifestyle industry hopefuls. The largest and longest-running fashion event of its kind, Career Day plays host to some of fashion industry's foremost professionals who will participate in seminars, exhibitions while students can try their hand at the merchandising and design competitions.
Both educational and philanthropic, FGI's Career Day awards over $30,000 in scholarship funds and provides career opportunities, insights, and a direct line to companies offering internships or entry-level positions. In its 45th year, Career Day has been revamped and re-branded with a new tag line, "Inspiring Fashion's Next Generation."
I was able to ask Rosanne Hart, PR Co-Chair of FGI Dallas, a few questions about Career Day 2013, including which industry professionals attendees can look forward to seeing, her favorite part of the event, and what Dallas' fashion industry has meant to her.
What else should we know about Career Day? Also, are there any updates to this year's event?
Career Day is not open to the public. It's an opportunity for universities and colleges to send their top students to Dallas for literally a full day of emersion in the fashion industry. No other venue nationally provides this type of exposure to college and university students, or has the depth of programming involved, not even New York! The event is entirely produced by volunteers and is a yearlong effort on the part of FGI board members, FGI volunteers, and the academic community on our Academic Advisory Council.
We are in our 45th year producing Career Day, and this year we have revamped and re-branded Dallas Career Day with a new tag line, "Inspiring Fashion's Next Generation" which we believe represents the mission of Career Day here.
We have also added online registration which we have never had before, and added a new Activewear Category to the competition.
Over $37,500 in scholarships is being given out this year, plus we have added a new scholarship, The FGI Dallas President's Award, which will go to the runner up of the $10,000 Musselman Fashion Design Award. These two scholarship winners will be announced in October at our annual Night of Stars Gala Press Party.
What is your favorite aspect about the event?
It is, without question, the competition and seeing all of the beautiful creations of these talented students. The creativity, quality, and use of fabric this year was literally astounding, and with over 550 entries, and 400 entries in the garment categories, it took our judges 3 full evenings from 5 p.m. until often 11 p.m. to select the winners! I love the Theatre and Artwear Category, and the Cocktail and Evening Category, and am constantly amazed by the beauty and execution of the bridal creations. Our Little Red Dress competition sponsored by Dallas Market Center is always such fun, and results in some of the most creative use of fabric.
What industry professionals will be attending this year's Career Day?
We have some real heavy hitters this year, with Stephanie George, president of Women's Wear Daily and former VP and Chief Marketing Officer for Time Inc., coming in from New York. Levi Palmer, co-founder of the London based designer collection, palmer/harding will also be speaking after his runway showings in London and Paris. He's a Texas boy and former Career Day Best of Show winner!
We also have Bagsnob founder Tina Craig on our social media panel, JCP Design VP Geoffrey Henning, JCP VP Visual Merchandising Richard Ledbetter, and Larry Leathers, who is known for his fabulous downtown Neiman's Christmas windows, and our FGI Dallas Rising Stars award winners, Khanh Nguyen, Prashi Shah and Elizabeth Showers doing a panel presentation.
What is your favorite success story from Career Day?
Career Day's success is reflected in the students themselves who come here inspired, but who also work so hard to compete in the fashion competitions. Seeing those students on the Career Day fashion show stage, accepting their awards, and knowing that many of them will someday be seen on New York, Paris, Milan, and London runways, and the Celebrity Red Carpets, realizing dreams they've probably had for most of their life, are truly the rewards for me, personally, and I would dare say all of us who work on Career Day every year.
The fashion industry has been good to me for most of my professional life, and I remember being one of those starry-eyed college grads who thought coming to Dallas and being in the fashion industry was the be-all and end-all of my dreams. It really did turn out to be that way for me, so it's time for me to pay it forward!
For more information about FGI's Career Day, head to dallascareerday.org/about-us/.