Susan Posnick's Beauty with a Purpose
W
hile enjoying a career as a successful makeup artist, working on famous faces such as Cindy Crawford, Diane Lane and as Mary Kay's personal makeup artist for several years, Susan Posnick was diagnosed with skin cancer. She ultimately beat cancer and decided to make something positive out of her experience. Inspired her battle with skin cancer she created COLORFLO, a two in one combination of foundation and sun block. She soon branched out and created her own line of products called SusanPosnick Cosmetics.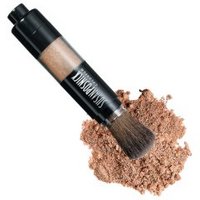 COLORFLO has been featured in numerous magazines and is by far Susan Posnick's most sought after product both because of the quality of the natural ingredients that go into the foundation (there's only nine!) but also the wonderfully convenient self dispensing makeup up brush. After her recovery from cancer Susan wanted to create a product that not only made people look and feel more beautiful, she wanted her products to contribute to the health of their users, that's why she made sure that with it's all natural ingredients and sun blocking properties her makeup would aid in keeping skin healthy.
Susan is now taking her goal of helping people with her products a step further by partnering with Linking the World. "Linking the World is an international humanitarian children's organization dedicated to helping children, families, and communities in developing countries, conflict areas and disaster zones. The Organization believes that every single person has right to survival, dignity, protection and participation in development. Linking the World creates leaders and empowers local communities to take ownership while resolving immediate struggles and working to break the cycle of poverty that traps entire communities" (via).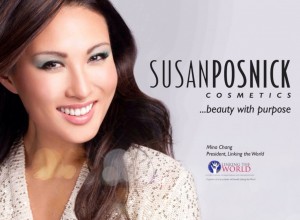 Together they have launched  Beauty with a Purpose, a campaign that will work help raise funds for Linking the World's international efforts with a portion of all SusanPosnick Cosmetic sales going to the organization. Chosen as the face of SusanPosnick Cosmetics during this campaign is the lovely Mina Chang, a successful recording artist and president of the United States branch of Linking the World. Both as a child of Salvation Army commanders and as a an adult in the music industry, Mina has spent her life helping others in need, making her the perfect representative of this campaign that supports both inner and outer beauty.
Every purchase of SusanPosnick cosmetics helps support Linking the World in their tireless efforts to end cyclical poverty around the world and help developing communities find empowerment. This makeup not only improves your health and beauty it helps improve the well being of thousands of others.