Mimosa Brunch with Abi Ferrin, November 17th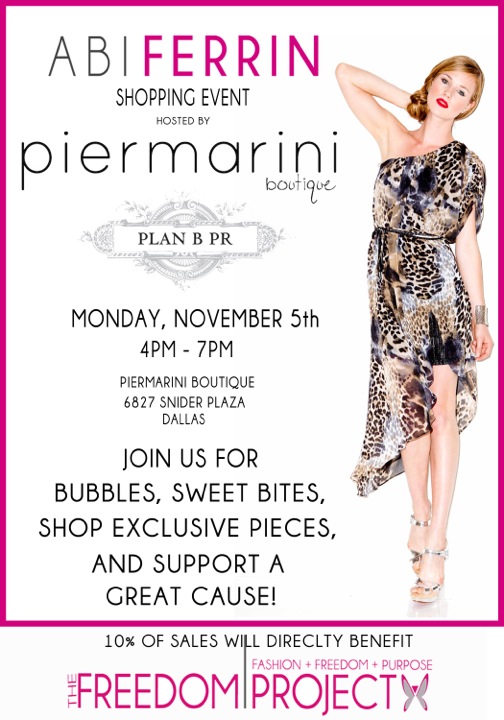 A
s an avid follower of fabulous designer Abi Ferrin, we Dallas women can't say enough good things about her love for fellow women around the world.  Her company gives a great deal of time and attention to The Freedom Project, their partners who work with women rescued out of trafficking. This program restores, rehabilitates, and provides employment for women who would otherwise not have a chance in life.  Now, they ask you to join them for a Bottomless Mimosa Brunch with a cause! Their partners in Cambodia and Nepal truly need funds to help more people, and do not spend time or energy fundraising as they are on the ground working. The brunch is November 17th at Cedar Social from 11-2 with limited seats available. There will be a style show during the bottomless mimosa brunch, as well as a silent auction raffle. The goal will be to raise $10,000 to help these wonderful partners.
For ticket pre-sales Piermarini Boutique and Abi Ferrin partner to offer you this exclusive opportunity to purchase Freedom Project Brunch tickets! On Monday, November 5th – Piermarini Boutique in Snyder Plaza- 6827 Snider Plaza  Dallas, TX  75205.
There are a limited amount of seats, so come early November 5th to buy your brunch tickets while shopping for a good cause at Piermarini Boutique. There will also be fabulous giveaways…including a Freedom Project T-shirt for first 5 tickets sold and a raffle for 2 Free Brunch Tickets.  To learn more about the Freedom Project go to www.abiferrin.com/pages/freedom-project.
Hilary Kennedy

Hilary Kennedy is a contributing author for
YouPlusStyle
, focusing primarily on Style, Arts and Entertainment, and Dating and Relationships. Hilary also stars in many videos for
YouPlusMedia
.