The Guide to Summer Preppy
P
reppy has never gone out of style. Cardigan sweaters, pearls, madras shorts….all great wardrobe staples.  If going full-out prep isn't for you, adopting one or two classic pieces to your eclectic wardrobe is always a good idea.  You never know when you might be invited to The Hamptons and suddenly have a J. Crew emergency. My advice?  Be prepared. Here are a few classic preppy looks to help you decide which key pieces need to make their way into your closet.
The monogrammed tote is a staple of prepsters everywhere.  If your initials aren't embroidered on something….well, you are late to the picnic, my friend.  Pick a color you love and will carry all summer long. (Plus, you avoid mix-ups. No one is going to try and take home a tote with your initials on it. Hopefully.)
A tea-length dress is a must -have because:
A. It's conservative enough for any and every event
B. It's flattering to all body-types
To keep it from appearing too "Stepford Wives", wear a modern heel and skip the pearls.
The loafer or boat shoe is another gotta-have item.  These are not only polished, but comfy!  Though I recommend buying a pair in the classic shades of brown, white, or navy, brands like Sperry-Topsider have colorful, metallic, and even patterned versions that are the perfect statement (comfort) shoe.
Summer preppy means a classic-cut swimsuit and floppy hat to shield your delicate skin from the sun.  If wearing an all-black suit doesn't suit your fancy, a gingham version like this one keeps it real and interesting.  (Or this bikini version by Rugby Ralph Lauren.)
Besides a simple floppy hat, bring that sunscreen in your monogrammed tote.  Sunburns are not chic.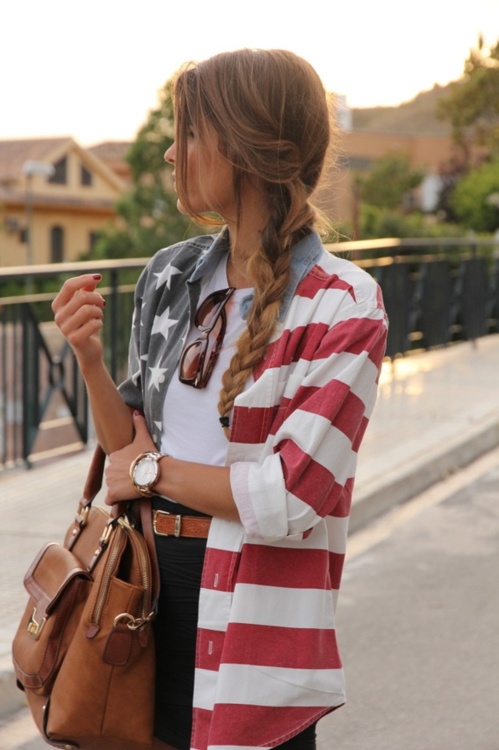 Preppy means unashamedly
pro-American
, so don't be afraid to sport at least one piece of
red, white, and blue
this summer.  From a silk scarf to a no-holds-barred shirt like this one, be proud to show you're living the dream in the old U.S. of A.
(photos via)