Lauren Conrad's Ballerina Bun
F
or the past 22 years I have sported the same hairstyle: blonde straightened hair. Nothing fancy. Occasionally I'd wear it in a pony tail if it was dirty, I worked out, or on the rare occasion that I rode in a convertible. But with the help of a New Year's resolution and the ever-inspiring Pinterest, I decided to add a few new routines to my hairdo repertoire.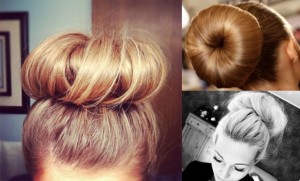 I attempted several hairdo endeavors, including the fishtail braid, which I still have yet to master, as well as some Game of Thrones inspired braids. The experience has not been easy and I have had many failures along the way, but there is one hairdo that I mastered immediately: the sock bun. It looks simple enough, but then again so did the others. I was constantly tormented by young girls I babysit who could do more intricate things with their hair at age 12 than I can at 22. But this one was different; it clicked. So I can say without a doubt that if I can master the sock bun, anyone can!
Get a pair of dress socks and cut a whole in the toe. If you don't have one than you will need to go out and buy a pair, trust me. I attempted it with an old nike sock and it was not up to par.
Roll the sock into a donut
Gather your hair in a ponytail (high or low, whichever you choose!)
Pull the end of your ponytail through the middle of the sock and begin tucking the hair under the outside of the donut.
Continue to tuck hair under until the sock reaches your head.
Voila! If you're looking to add a little flare to your perfectly bunned head, try this pretty pink bow a la Lauren Conrad.