New Obsession: Hair Chalk
hen I was a little girl, I considered myself a bit of a chalk connoisseur. My sister and I would create some pretty serious chalk art on our carport that could have rivaled Picasso. When I kissed my middle school uniform goodbye, I had assumed my chalking days were over, until I spotted a picture of Lauren Conrad's adorable hair.
If you're looking to add a little temporary color to your locks, hair chalk is the perfect investment. I only wanted to try it out for the weekend and it worked like a charm. The color stayed through the weekend and washed out completely on Sunday.
But there are definitely some dos and don'ts when it comes to hair chalking. Here are a few tips and tricks to make sure your hair chalking experience is a success, not a nightmare.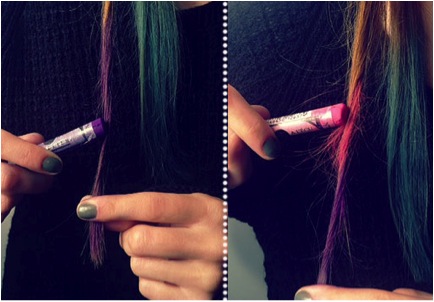 What You Need:
soft pastel chalk (get Sennelier if you can)
Spray bottle of water (this is for those with dark hair or those with  blonde hair who want the color to stay in longer)
Gloves (unless you want to get a little messy)
Straightener or curling iron to lock in the color
Make sure you get SOFT CHALK and not oil pastels. Oil pastels are a no no. Sennelier seems to be the best, but if you're from Texas you have to order it online.
If you're blonde and only want the color to stay until your next shampoo, DON'T wet your hair before you chalk it. It will last longer than you are wanting. If you do want it to last then go ahead and wet it!

Red heads may vary so try it without wetting it first.

Twist the piece of hair that you are chalking; it will help get the most out of the color.
Get creative! Mix several colors, darken the color as you move down the length of your hair, match your outfit for that night, or all the above! It's all fun and it's all temporary.