Bacon Double Cheese Burger Dip For The Big Game
I
'll freely admit that I'm much more interested in the food being served on "Big Game Sunday" than the teams on the field.  It's basically a day of appetizers and drinks-what could be better?  If you find yourself hosting a party, invited to one, or just wanting to fix something yummy while you eagerly anticipate commercial breaks, I recommend this Bacon Double Cheese Burger Dip.  It's not a low-cal option, so don't blame me when you become addicted to the rich, cheesy goodness.
Bacon Double Cheese Burger Dip (courtesy of Closet Cooking)
A hot cheesy baked dip with all of the flavours of a bacon double cheese burger that makes for some great game day snacking!
Servings: makes 4+ servings
Prep Time: 10 minutes
Cook Time: 50 minutes
Total Time: 1 hour Printable Recipe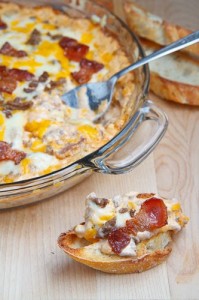 Ingredients
1/2 pound ground beef
6 strips bacon, cut into 1 inch pieces
1 small onion, diced
1 clove garlic, chopped
4 ounces cream cheese, room temperature
1/2 cup sour cream
1/4 cup mayonnaise
1/2 cup mozzarella, shredded
1/2 cup cheddar cheese, shredded
1 tablespoon worcestershire sauce
2 tablespoon ketchup
Directions
Cook the ground beef in a pan over medium heat, set it aside and drain the grease from the pan.
Cook the bacon in the pan until crispy, about 6-10 minutes, set aside and drain all but a tablespoon of the grease.
Add the onion and saute until tender, about 5-7 minutes.
Add the garlic and saute until fragrant, about a minute.
Mix the ground beef, bacon, cream cheese, sour cream, mayonnaise, mozzarella, cheddar, worcestershire sauce and ketchup and pour it into a baking dish.
Bake in a preheated 350F oven until the top starts turning a light golden brown and then sides are bubbling, about 20-30 minutes.
*I recommend bread rounds, baguettes, or good old fashioned chips for dipping!