Your Feet Will Thank You: Where to Buy Cute and Comfy Flats
T
he word "flat" may have a negative connotation, but it certainly doesn't when it comes to shoes. Flats have been a girl's other best friend for years, saving feet one shopping trip at a time. Heck, they've become so widely popular that even Dr. Scholl's created a foldable, rollable pair in three sizes for women to pack in their purse on the go (for under $10, no less). Flats are perfect for travel, daytime, nighttime, anytime, so why not invest in several pairs that you can use when giving those sky high Choo's a rest? Here are a few local places who carry the best selection around.
Stanley Korshak at The Crescent: When looking for a top-notch designer flat, Korshak is the stuff dreams are made of. With a broad range from Toms to Lanvin, the shoe department carries every color, size, and shape you could want. If you're feeling a little wild, try the Guiseppe Zanotti ballet flat in Leopard Pony Hair for $595. An investment for sure, but what a gorgeous one.
500 Crescent Court #100
Dallas, TX 75201
(214) 871-3600

Tory Burch: This boutique has classic flats and flat sandals that are chic with just about anything. With the signature emblem adorning each pair, women all over the world went nuts for the Reva ballet flat in dozens of colors and leathers. If you don't already own a pair, you're a few years behind the crowd. Check out the new Vintage Metallic version in Snake print for $235 at the Tory Burch boutique in Highland Park Village.
17 Highland Park Village
Dallas, TX 75205
(214) 559-2400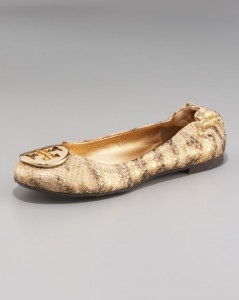 Urban Outfitters: For shoe lovers who change their shoe taste as often as they brush their teeth, it only makes sense to be a little more frugal with your purchases. Urban Outfitters carries an affordable range of flats and sandals that look comfy, cool, and won't make your bank account cringe. The Ecote Toehold Simple Gladiator Sandal is just $34, and the awesome knee-high version here also shows off your rockin' pedicure.
Mockingbird Station
5331 E Mockingbird Ln, Dallas, Texas
(214) 821-4371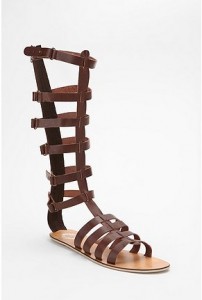 DSW: Women of all ages love DSW for the wide selection and simply addictive clearance racks. With high-end brands like Ralph Lauren and BCBG, and more cost-effective options like Rocketdog and Sperry Topsider, DSW is bound to have a flat your toes can call home. Since flats sometimes need a little more embellishment to make a statement, why not try this Sperry Marin  pair for $67? They are a neutral (but fun!) way to stay within your budget and look chic.
8335 Westchester Drive
Dallas, TX 75225
214-696-2305
Sun 11am-7pm, Mon-Sat 10am-9pm