Spotlight on Jewelry Designer Chan Luu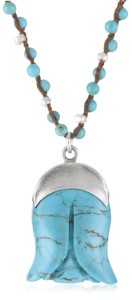 F
rom the moment I walked in F.I.G. and saw Chan Luu , I was totally and completely head over heels.  This jewelry is the definition of laid back elegance: beads in beautiful colors, delicate earrings, and wrap bracelets that are so young Hollywood.  Chan Luu is a designer of fine fashion jewelry and accessories. According to this handy thing called the internet, " Chan Luu jewelry pieces have been featured in the top fashion magazines and have adorned Hollywood's hottest celebrities. Using hand cut semi-precious stones, beads, and colored fresh water pearls, Chan Luu's trademark is her artistic skill in combining unusual forms with beautiful colors to create truly striking pieces which set the trend in fashion jewelry."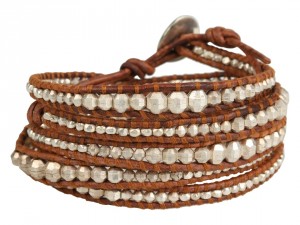 I'd say so! Chan Luu uses high quality materials such as sterling silver, gold vermeil, leather, fresh water pearls and semi-precious stones. If you're feeling boho or just want a piece of jewelry that will look as good with jeans as it does with a cocktail dress, this designer is it.
This Chan Luu Turquoise Stones And Silver Beads On Wax Linen Necklace ($215) is an interesting blend of silver beads and rounded turquoise beads that have a brown wax linen cord cris-crossing in and out of the beads and stones. Hanging from the necklace is a half moon-shaped piece of sterling silver that features an upside-down rose bud made of turquoise. Gorgeous and unique….this necklace seems to radiate peace.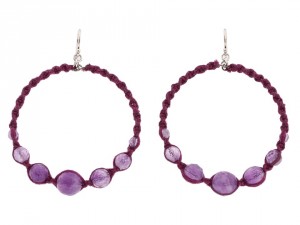 The leather and vermeil nugget wrap bracelet ($295) has become a must-have wardrobe staple…I've seen girls wearing as many as five on one arm, along with a menswear watch!  This wrap can be worn several ways and comes in a variety of classic combos. It's a pricey item, but one that you can wear forever.
These gold tone earrings with beaded accents ($63) can add a subtle pop of color with your wine colored wardrobe this fall.  Dainty earrings on french hooks-can you say "birthday wish list"?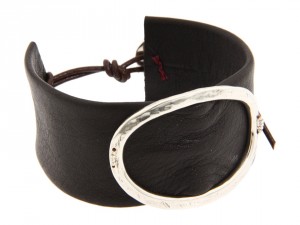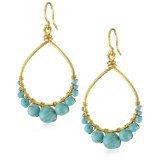 This cuff ($140) has a masculine feel to it, but in all the right ways.  A simple piece of brown leather with a silver ring adornment-not much to it, and that's the beauty of it.
Turquoise Stones On Gold Vermeil Drop Frame Drop Earrings ($105) have stones start halfway down the wire and gradually get larger until they reach the largest stone at the bottom center of the drop. Why not wear them with some of your other turquoise accessories or an all-black ensemble? Pretty and priced right.