How To Wear Gray Boots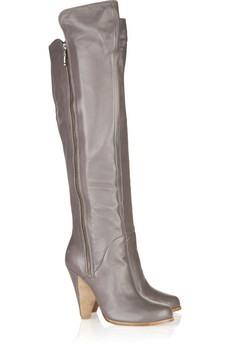 I
f you've "invested" in a gorgeous pair of grey winter boots, you're probably looking for ideas on how to get the most mileage out of them. In the past few years,  the gray boot was building momentum as THE "other" black shoe you needed in your closet to be on trend.  Now everyone can't get enough of them!  From shades of blue gray to almost brown, gray boots are the go-to boot when you want to add a pop of extra special color to an outfit.
The most popular gray color is the brownish-gray tones of mushroom because of its versatility in both style and occasion. These days you can find a range of boot silhouettes in gray, from heels to flats, and thigh-high to ankle. I suggest you start off with a simple silhouette  that can take you from day to night in a medium (about 2  to 3-inch) heel. What to wear with your fabulous new gray boots? It's a neutral, so you can wear them with just about anything. Black leggings and dark indigo jeans would look gorgeous, as would a lighter jean, cranberry tights, purple dress, red pants, pale pink sweater, etc. In other words, wear them with dark colors, bright colors, pale colors – truly anything! Where brown or black boots would be the only options, gray boots, in the appropriate styles, can go with a HUGE range of styles and colors.
These neutral knee-high boots are a fresh alternative to basic black for winter – try pairing them with skinny denim like Eva Longoria, Jessica Simpson and Kate Hudson did with chunky, comfy sweaters .  And yes, you can still wear gold jewelry with them-ladies ask that question a lot.  So, don't be afraid to pair gray boots with anything and everything in your closet…well, except maybe sweatpants.  Click on any of the new styles below for info and pricing!