Talking Pajamas and Oprah with Dallas Designer Bobby Schandra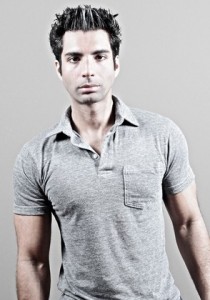 W
hen you meet Bobby Schandra, handbag designer probably isn't your first thought.  He's young, athletic, and has an effortless style about him.  But once you step into his showroom in the World Trade Center, you realize that Bobby has more than great hair going on-he's a bonafide handbag and accessories designer for the modern woman.  When asked what kind of woman he has in mind when he designs, he says "She is on the go, favors high energy environments, and travels for business and luxuriating. She is independent and confident – bold and self-assured. She knows and understands value and has her own design aesthetic." A walk through his showroom proves he means what he says-he has several different collections that reflect strong and confident personalities.  His bags have been featured on numerous publications and television shows, most notably on Entourage. From bold colors to trendy hardware to fashionable iPad cross-body accessories, Schandra incorporates ready-to-wear in each season's latest.
Behind the serious designer is still a hip, young guy with more than meets the eye, so I couldn't help but ask the questions everyone wants to know (and a few they didn't know they wanted to know!)
Bobby, when did you realize you wanted to become a designer?
Perhaps it was the influence of the semester studying in Italy that initiated that influenced my interest in design. Or perhaps it was my love of art, music and life's finer things. Whatever the cause, I have always had a natural instinct for color, texture and fabric propelled him into a family history of fashion design.
 What are some of your professional accomplishments?  I won 6 national sales awards from Johnson & Johnson. I was also a recognized  speaker for Americas Mart University, as I  directed and coached retailers on how to grow their web presence and retail businesses. My bags and jewelry were featured on Entourage, Curb Your Enthusiasm, and Vampire Dairies.
As a designer yourself, who are some of your favorites? Gucci, Valentino.
Where can readers buy your handbags? www.bobbyschandra.com
What was the first designer piece you ever purchase for yourself? Gucci shoes.
 We all have one….what is your trashiest television indulgence? I don't own a TV, but  love to go to friends' houses to watch Entourage and Curb Your Enthusiasm.
Name the worst thing in your closet that you just can't give up.  Snoopy pjs!
What do you believe makes a quality handbag? The design, the construction, the materials, the lining, the zippers, and most importantly how it makes you feel.
What is your favorite restaurant in Dallas? My new favorite is Bellinis. (Italian)
What would be an ideal romantic date? My girlfriend Ali spending quality time with me over a nice meal. I love to eat and I love spending time with her. She is amazing!
What is your ritual to prepare right before you begin creating your designs? Lots of stress and procrastinating. I usually get my best work done when I have urgent deadlines.
How do you stay in such great shape? I work out every day, sometimes twice a day, and I train with an awesome trainer named Ruben at Golds.
You have $500 to spend on anything you'd like.  What do you buy?
I would put it toward a trip with my girlfriend.
Which celebrity would you most like to see carrying your handbags? Sara Jessica Parker, Oprah.
*Check out our Style and Fashion video update this week for Bobby's trend forecast on this season's hottest handbags.