My Brazilian Blowout Experience at Blanc Salon
I
have always envied stars like Jennifer Aniston and Halle Berry who look like they've never experienced a bad hair day.  As someone with a lot of hair and no skills at making it look beautiful myself, I decided to try the mysterious Brazilian Blowout at Blanc salon in Uptown.  When I first came to check the place out, I met owners Dien Khieu and Scott Tuan Witmer.  Not only are they the most personable salon owners I've ever met, but also you can tell from their  fantastic hair that they know how to make clients look amazing.  Besides the friendly staff, the salon itself is bright, sleek, and reminds me of the stylish New York salons you pass on Fifth Avenue. (Not to mention Blanc carries product lines that are world famous and not available in many salons in Texas….bonus!) Stylists Monica Lily and Henry Uldall gave me an overview of the salon and I found out that Blanc has a serious list of celeb and socialite clientele, all of whom have hair I have only dreamed of. I knew I was in for something good.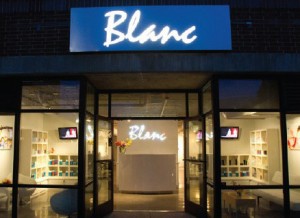 After being greeted with those friendly faces and a beverage, I headed back to the shampoo bowl with Dien.  He gave me a thorough wash and towel dry, and went to work applying the Brazilian Blowout solution.  I learned a lot about this service from him: Blanc is a Brazilian Blowout certified salon (so they know this process inside and out,) and it isn't damaging to the hair.  The results leave you with sleek, shiny, and silky hair…. and no frizz!  In a humid city like Dallas, having a head without a million flyaways is nothing short of a miracle. Another added benefit is that this service cuts drying and styling time in half. And the best part?  The results of the Brazilian last 3-4 months!  I couldn't believe the dramatic transformation, and almost a week later, I couldn't be happier with the outcome.
While having the service done, I couldn't help but see how busy the salon is: SMU girls, moms, dads, young professionals, you name it.  Apparently the word is out that Blanc isn't just a salon for the hip and trendy-it's for anyone who wants incredible looking hair.  And thanks to them, now I love mine.
P.S. For those of you who become a fan of our fashion/style channel, you can receive special offers that are exclusive to You Plus Dallas members. Blanc Salon has one for you, and you don't want to miss out on it!
Blanc Salon
2717 Howell Street
Dallas, TX 75204-1104
(214) 754-9911