Make Up For Ever's Make Up Bag Remix Comes to NorthPark
J
ust like the rock stars they are, the professionals at Make Up For Ever are hitting the road with their Make Up Bag Remix Tour to teach old make up bags some new tricks. The tour takes them cross-country, from San Francisco to Miami, with a stop at NorthPark Center in Dallas on Saturday, February 23 and Sunday, February 24.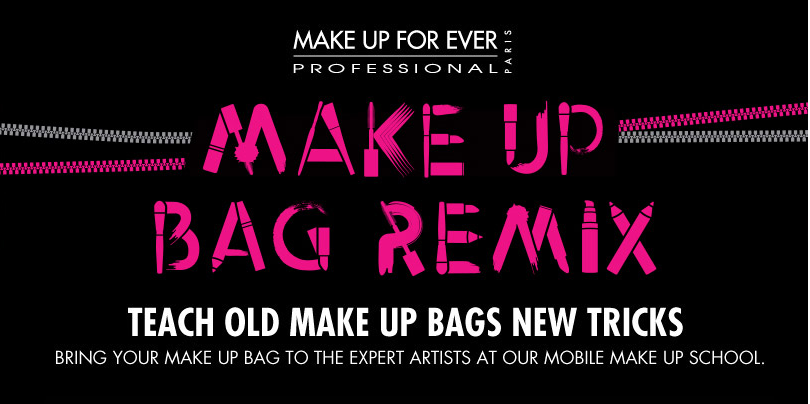 Make Up For Ever has had a strong focus on education and artistry since the first Make Up For Ever boutique opened at 5 rue la Boétie in Paris. Paris is also home to the Make Up For Ever Academy, created by company founder, Dany Sanz, an artist who sought to develop an all-encompassing make up line for fashion and show-business professionals that contained every kind of product, texture and color needed to achieve any effect a make up artist could desire.
Make Up For Ever is taking that same idea on the road and doing something that no make up brand has ever done before. Everyone has at least one product in their make up bag that they have no idea how to use, so the professionals are inviting guests to bring in their bags and learn how to use the product they already own, regardless of the brand or type of product. Aren't they awesome?!
There are two elements to the Make Up Bag Remix Tour:
30 minute pre-booked one-on-one make up bag consultations where their pros go through your bag, provide an interactive, hands-on lesson explaining how to apply your products, and then show you how to supplement what you already own to create your most flattering look.
Quickie make up lessons for those on the go, offering lip and complexion touch ups featuring Pro Finish, our innovative new multi-use compact foundation which launched in January 2013.
Make your make up bag work harder. Book your appointment at http://makeupbagremix.com.
{photo via}