Behind the Scenes: Abi Ferrin's Fall 2013 Photo Shoot at Hotel ZaZa
H
ere's a quick bio of Abi Ferrin for anyone not in the know about this incredible Dallas designer. After some time pursuing broadcast journalism in DC and working at Paramount Pictures in Hollywood, the Jackson Hole native moved to Dallas to be with her cousin in 2005 where she began to pursue her childhood hobby.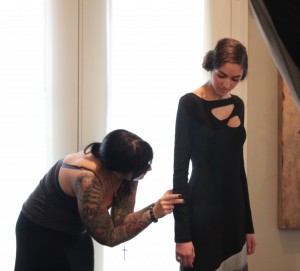 Her eye-catching designs had already caught the attention of celebrities and media during her time in Hollywood, but it wasn't until she was crowned Texas' Next Top Designer in 2007 that she was fully prepared to take a chance in the fashion world. Abi's unique creations as well as the philanthropic arm of the company, The Freedom Project, have skyrocketed her to a position as one of Dallas' most beloved designers.
I was lucky enough to get a behind the scenes look at Abi's Fall 2013 collection at Hotel ZaZa this past Monday during a photo shoot for both the lookbook and the editorial campaign. Aside from standing in the midst of incredible photographers, designers, and all-around artistic minds in one of the coolest hotel rooms I have ever physically been present in, it was fascinating to witness such a creative process. As someone who barely managed to hem her plaid skirts in high school, it's incredible to me that anyone could take pretty fabric and sew it into something that is not only more beautiful, but looks good on a person.
Abi's collection was inspired by 1920's Soho NYC, flapper fashion and the wingspan of an owl. The colors were deep and romantic,  as were the red lips and wavy, retro bobs on the models. The Pre-Fall, Fall 2013 lookbook and editorial campaign was styled by Dani Stone of DaniStyle, an celebrated LA stylist who has styled a whirlwind of red carpet events including Jeff Bridges' wife Susan on the night of his Oscar win.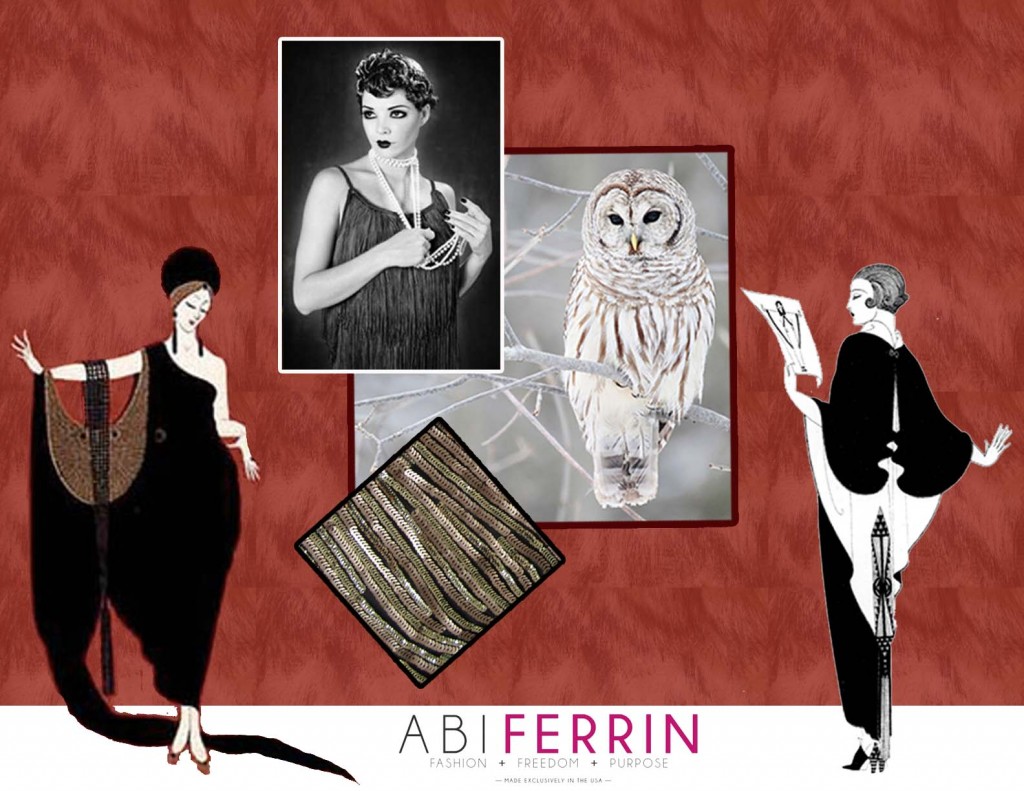 The lookbook was shot upstairs in this fabulous loft that apparently goes mostly unlived in by its owner. I would probably go all Howard Hughes and refuse to leave if I lived there. The editorial shoot was done against a stunning staircase with deep reds, a romantic mural, and a breathtaking chandelier. It was the perfect backdrop for Abi's lovely designs. Per usual, the drapery and cut of the clothes were perfection, looking amazingly chic but completely wearable all at once.
For more information on Abi Ferrin and her designs, head to AbiFerrin.com. For more behind the scenes photos, head to the YouPlusStyle Flickr.