Canned food drive at Mockingbird Station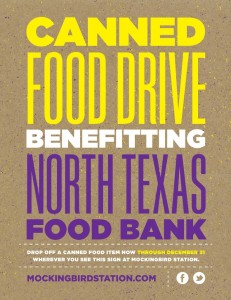 F
or many families' across North Texas the comfort of knowing where their next meal will come from is not one they can enjoy. The North Texas Food Bank works tirelessly to remove this uncertainty from these families lives especially during the holiday season, so this year they are teaming up with Mockingbird Station to give you even more incentive to donate. From now until December 31st, select stores and restaurants located in Mockingbird Station will be giving discounts on their products to people who bring in canned goods for the North Texas Food Bank.
Places like the The Sunglass Hut will be offering 20% off with each canned food donation while the Angelika will be giving away a free small popcorn for each donation.
These two are definitely not the only ones partaking in the food drive, check out some of the other places that are looking to give you a little something back in return for helping families all across North Texas have a happy and healthy holiday.
Relativity Outdoors: 10% off one regular priced item with donation of canned food
Mockingbird Taproom: 10% off one item (one per person) with donation of canned food
Park Cities Bank
Gap
Bath & Body Works
The Lofts
The Offices
Rockfish Seafood Grill
American Apparel
West Elm
Francesca's Collections
Michael Cross Gallery
Centre
Sample This!: 10% off one regular priced item with donation of canned food
Movida
Michael Raymond