Posted
September 10, 2012 by Megan Bursey
in Fitness
Healthy Brownies?
W
e all enjoy a sweet treat now and then, me included!  Over the past year I have spent a lot of time researching ways to cook cleaner, healthier versions of my favorite foods. There are a lot of great resources out there for those looking to change the way they cook or bake. One of my favorite cook books is the Eat-Clean Diet Cookbook by Tosca Reno. She provides some amazing recipes that do not lack in flavor! My favorite find this year was discovering a website called BusyButHealthy.com.  Kristine Fretwell runs the site and provides some great variations on classic recipes to make them a little bit healthier. I have tried many of these and wanted to share my latest experiment with you. I made these Triple Chocolate Protein Bars over the weekend for a girls night. We wanted to have some healthy versions of our favorite indulgences and, like most women, we love chocolate! These were very simple to make and were a BIG hit!
Below is a list of the ingredients needed to make these. You can find this recipe on Kristine's website  http://www.busybuthealthy.com/recipeindex/?recipe_id=6005934
Ingredients (makes 16 bars)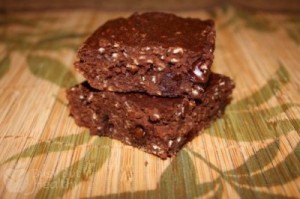 1 cup oat flour
1 cup quick oats (not instant or old fashioned)
3 scoops chocolate whey protein powder (low sugar, low carb variety) (Just make sure you like the flavor)
1/2 cup unsweetened cocoa powder (I used Dark Chocolate)
1/4 cup stevia baking formula
1/4 cup semi-sweet chocolate chips
4 egg whites (1/2 cup carton kind)
1/3 cup unsweetened applesauce (1 snack pack)
1 cup unsweetened almond milk (or milk of choice)
Instructions
Preheat oven to 325 degrees F. Lightly spray an 8×8 pan with cooking spray. Set aside. In 1 bowl, sift together all dry ingredients. Add in all wet ingredients into the same bowl and mix until blended. Lastly, add chocolate chips. Pour into pan and bake for approx 18 minute or until firm on top all over and toothpick comes out almost clean. Cool completely and cut into 16 bars.
* I baked mine at 325 degrees and they did not cook fast enough so I upped the temperature to 350 degrees for about 10 minutes. Oven temperatures and cooking times will vary, so it is important to check the brownies regularly to ensure they do not over cook.
*Also, these were not as sweet as traditional brownies so if you are wanting to amp up the sweetness you may need to add a bit more sugar substitute.
So give these a try an let us know what you think! I hope these give you a great option for that next date night in or girls night that you are looking for a little something sweet.