"Thursdays at The Penthouse" Brings Style and Soul to Luxe Stoneleigh
E
xclusivity is paramount in a metropolitan town like Dallas.  So when Luxe Stoneleigh Hotel & Spa recently launched a new social event "Thursdays at the Penthouse," it made more than a few ears perk up. Welcoming guests and neighbors to experience an exclusive night of cool jazz/R&B music, handcrafted cocktails and appetizers in Dallas' most opulent penthouse suite turned hotspot, you can be sure that eye candy galore will be out and about.
"Thursdays at the Penthouse"- Luxe Stoneleigh Spa and Hotel
Held select Thursdays from 9pm-midnight in the hotel's lavish 11th floor penthouse (next are scheduled for August 2, 16 and 30), the event is quickly becoming a scene for Dallas' best-dressed and hotel guests. Outside guests are welcome by invitation only from the event's band – Danny Church and his band – and are encouraged to forward RSVP information to their closest friends for an upscale evening atop the historically hip Luxe Stoneleigh Hotel & Spa.
Danny Church Band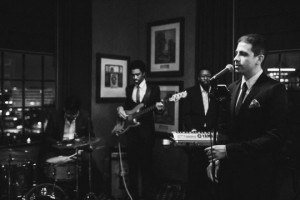 Tempting, isn't it?  Now you have the perfect excuse to go ahead and splurge on that hot pair of heels or that clutch you don't really need.  Bottoms up!
For a complete list of dates for "Thursdays at the Penthouse" and other fashionable events at Luxe Stoneleigh Hotel & Spa, visit luxestoneleigh.com or call (800) 921-8498. Follow facebook.com/stoneleighhotel or twitter.com/stoneleighhotel for special offers.
(photos via Duy Nguyen – www.dnfoto.com)