Signature Style: Custom Made Rubber Stamps
o you find yourself running out of business cards on a regular basis?  Do you seem to never have any return address labels to put on your bills, letters, etc.?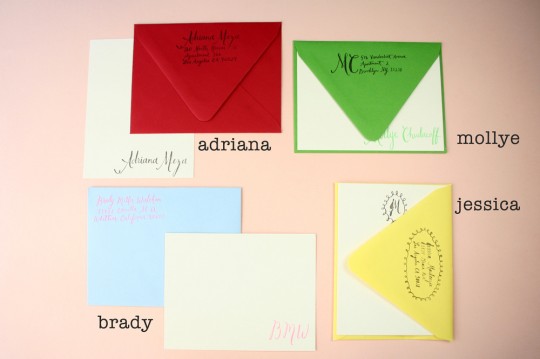 Yep, me too.  That's why Paper Pastries caught my eye; These custom creations will not only save you time spent looking for stamps and address labels, but will save you some cold, hard cash in the long run as well.  From DIY business cards that can change color with the swap of an ink pad to return address labels in a custom calligraphy font, these stamps are as practical as they are stylish.  There is even a party invitation stamp set, which is ideal for businesses or clubs that have a regular get-together. You can customize stationary, dress up gift labels, and when you run out of those business cards, you can simply stamp more of them.
Chic, no?
Paper Pasteries also has a very cool blog with the latest eye candy in paper products…stationary, notecards, greeting cards, gift ideas, and glossy photos that will have you drooling.  Their Pinterest page is nothing to sneeze at, either, so friend them for further inspiration!