Lena Dunham Loves eos
he ladies of HBO's 'Girls' are as different as they can be, and so is their makeup. Unlike the larger than life Samantha Jones or Manolo Blahnik wearing Carrie Bradshaw, New Yorkers can tell that these girls keep it real. In order to maintain that authenticity, the show's lead makeup artist, Patricia Regan, and the show's leading ladies share their characters' favorite beauty products.
The eos Lip Balm Smooth Sphere in Summer Fruit is a favorite of Lena Dunham's and is the perfect accessory for her character.  As the no-frills, witty and spontaneous Hannah, she needs a lip balm that not only fits her unique personality, but keeps her lips moisturized without leaving them shiny. Shoshanna would approve.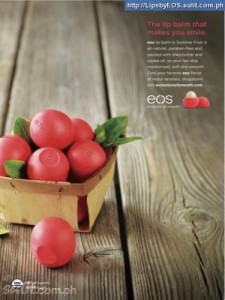 I did a post on Eos last summer when I first fell in love with these magical, beauty balls, and if you know me well than you know that I am still whipping out one of these colorful spheres on the reg.
If I ever get to meet Lena Dunham (dreams can come true!) I know that we will have something to bond over.
Caitlin Clark is the Arts & Entertainment and Style Writer and Social Media Director for YouPlusDallas. Follow her on Twitter at @caitlinclark