The Only Salsa You'll Ever Want to Eat (Plus a Giveaway!)
s someone who is now living gluten and refined sugar-free, I have my eye on all things natural and delicious so I don't wither up into a rice cake ball and blow away.  I want tasty.  I want exciting. I want DELICIOUS!
Lucky for me and all the rest of you health nuts who don't want to compromise on taste, I have good news.  News that will make you realize there is a whole wide world out there that is all natural, preservative and additive free, fat free, gluten free, kosher certified, and remarkably still the best stuff you've ever stuffed in your pie hole.
By now you're probably thinking I've found the Holy Grail of deliciousness.  Well, you're right.  Wholly Salsa.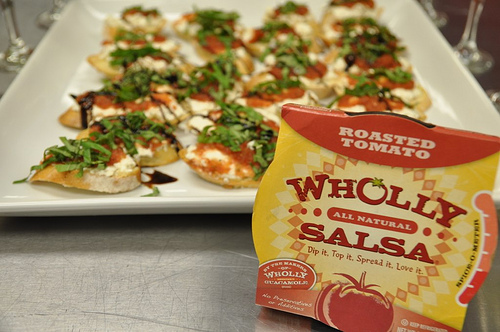 Salsa? Yes, salsa.  And recognize the "Wholly"?  As in "Wholly Guacamole"?  If you've ever tried their guac, then you know what I'm guac-in' bout. It's darn good stuff.  And now they've got salsa that is so yummy I'd eat them straight out of the package without any dippers.
Wholly Salsa invited me to come try the new flavors, which include: Classic Mild, Classic Medium, Classic Hot, and then the specialty flavors: Avocado Verde, Guacamole & Spicy Pico, Roasted Tomato, Red Pepper Mango, and Pineapple.  Oh, the pineapple!  It's like Cinco de Mayo in your mouth, people.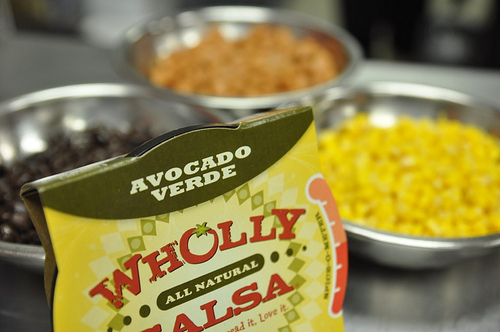 The best thing about these natural wonders is that they can add new flavor to an old dish,  or you can create an easy dinner with veggies/chicken with the salsa on top, or even concoct a gourmet meal if you're into grilling, skewering, and mixing flavors!  Each package contains simple recipe suggestions on the inside, which is an added bonus for boring chefs like me.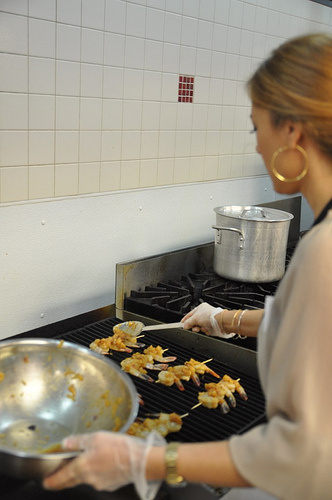 A lovely group of chefs showed me the ropes on how to make Thai Shrimp Nachos, Roasted Tomato and Goat Cheese Bruchetta, Mango Shrimp Cocktail, and Roasted Tomato, Spinach and Cream Cheese Stuffed Chicken armed with the salsa and a few ingredients from Central Market.
I had no idea how one brand of salsa could inspire so many different dishes!  The Thai Shrimp Nachos (made in part by yours truly,) tasted very similar to some I order at a rather expensive restaurant in town. I felt pretty smug after tasting them and realizing my salsa creation is up there with the big boys.
Check the Eat Wholly website, Twitter page and Facebook page for more great recipe ideas, discounts (like the $1 off coupon on their website), and giveways.  Which brings me to my exciting giveaway: The first person to comment on this blog will receive a lovely Wholly Salsa giftbag of delish goodies.  Don't miss out on this. It's your chance to mix healthy AND yummy into your food rotation.  This stuff is the real deal – really easy, really good, and wholly natural.
*Find Wholly Salsa in grocery store produce sections beginning this month for approx. $2.99. Enjoy!