Getting to Know Elizabeth Ann's Recipe Box
I
f you're a foodie or someone who enjoys a spin in the kitchen now and again,  you're going to thank me profusely (in your mind) for introducing you to Elizabeth Ann's Recipe Box.
Elizabeth Ann is a blogger who wanted an easier way to share her passion with friends and family.  Thus, her wildly popular food blog was born, and has been slowly nudging scores of wannabe bakers in the kitchen ever since.  From her scrumptious Cinnamon Roll Coffee Cake to her King Ranch Casserole, this charming chef has some down home, tried and true recipes that will keep you salivating.  Her blog feels more like opening a family heirloom cookbook than reading a webpage; it's akin to your bestie divulging top secret recipes.  After reading her blog for several months, I had to know more about Elizabeth Ann and how she began her jaunt into the blogosphere.
YouPlusDallas: When did you begin blogging?
I began blogging in June of 2009 because I was tired of emailing recipes to friends. I decided to begin posting my favorite recipes on a blog. This simple recipe blog has grown to so much more since then.
What has the response been to your recipes?
The recipes on Elizabeth Ann's Recipe Box have been approved by my husband, who is just a steak and potatoes, small town cowboy. Basically if he likes a recipe, everyone will! Since I have made all the recipes on my blog and they have all been tested by Nate and multiple other people, I know that they are delicious and will be a big hit. Because of the steps I go through before posting a recipe, visitors to my blog meet each recipe with success.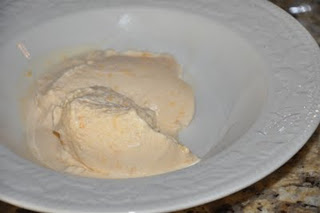 Which recipe is a favorite among readers?
Peach Ice Cream  is by far the most popular recipe on Elizabeth Ann's Recipe Box. It is wonderful and the perfect dessert to bring thoughts of hot summer days and screened in back porches.
What was the first thing you ever made growing up?
I made sugar cookies every Christmas with my grandmother growing up. Other than that, I didn't bake until college and didn't get seriously about my endeavors in the kitchen until after college. Needless to say, I am a self taught cook (which shows that anyone can learn!)
What advice do you have for people (like me!) who are intimidated by cooking?
I have had a couple of people look at my "Recipe Box" page and be completely overwhelmed. So I put together some recipes that I KNOW you will be successful at. Once you gain confidence in the kitchen, you will want to continue to try new things. To see my suggested recipes look here: If You Are New to the Kitchen

Any suggestions for something romantic to make for Valentine's Day?
Everyone knows the key to a man's heart is through his stomach! My steak and potatoes man would appreciate his favorite meal or dessert much more than a beautiful heart shaped cookie with royal icing. My suggestion is to make something you know he will love. But if you want to go with the Valentine's "red" theme and still have a delicious dessert, here are a few suggestions: Cherry Delight, Easy Strawberry Trifle, and Watermelon Granita.
Name a few of your favorite blogs.
My FAVORITE well known blogs are Pioneer Woman, Our Best Bites, and Southern Plate. But I also have to include a little known blog that is my cupcake go to: Pirates & Princesses!
Now that we are more aquanited with one another, Elizabeth Ann kindly shared her sinfully delicious Key Lime Pie recipe (which you'll be hard pressed not to try,) below.
2 sleeves of Graham crackers
12 TBS. butter, melted
2/3 cup white sugar
1/2 cup sour cream
3/4 cup key lime juice (about a bag of 20 limes)
1 TBS. grated lime zest
3 cups (2 14oz. cans) sweetened condensed milk
Preheat oven to 350 degrees. Use 9 inch prepared graham cracker crust, or to make graham cracker crust use a food processor or rolling pin to crush graham crackers into crumbs. Stir crumbs with butter and sugar and press into pie plate. Bake for 7 minutes. Let cool. While cooling, in medium bowl, combine key limes juice with condensed milk, sour cream and lime zest. Mix well and pour into baked graham cracker crust. Bake in preheated oven for 5-8 minutes, until tiny pinhole bubbles burst on the surface of pie. DO NOT BROWN! Chill pie thoroughly before serving. Garnish with lime slices or lime zest and whipped cream if desired.
To charm your family with creations like these, check out Elizabeth Ann's Recipe Box for all her incredible recipes and photos.