Cost Vs. Benefit: Secrets to Save in 2012
D
allas is a city known for having expensive taste and high style, but not everyone has a Black American Express card to play along.  (Or the Centurion card, for those in the know.)  How do so many people have such fine things?  Are they all just $30,000 millionaires?  Though the affluent abound in our abode, the real secret is cost vs. benefit.  When you know this rule, you too can acquire the upscale brands you love, without racking up credit card debt to do so.
What is cost vs. benefit?  It's merely taking the price of an item and determining what the cost averages out to "per use" or "per wear".  If you love these Yves St. Laurent leopard-print calf hair pumps, then take their price ($577.50 on sale,) and divide that cost by how often you project you will wear them.  If you wear these shoes once a month this year, then your "true" cost of these shoes is around $48.  Sure, it's a large up-front investment, but you won't need to buy several cheaper pairs of shoes or keep replacing shoes that aren't made as well.
What about a handbag?  If you tend to carry the same purse over and over again, the cost vs. benefit rule is tailor-made for you.  A classic, well-made handbag is worth spending more upfront on, because you'll get continuous use out of it, and have something chic for every moment of your day. This Chloe Marcie Large textured-leather tote is perfect for everyday use, and works well with casual and dressy looks.  At $1,895, it's a steep purchase, but if you carry it every day for a year, the "true cost" is around $5 per day.  That's the price of a latte!
Cost vs. benefit is also especially important for fine jewelry pieces. This Le Vian Diamond Ring  (shown here in 14k White Gold White and Chocolate Diamonds,) is classically beautiful and will compliment any ensemble nicely.  Though it retails for $2060.10, you could wear it four times per month and the cost would be around $43.  Not a bad investment for a piece that includes beautiful (real!) diamonds and will make you feel special each time you wear it.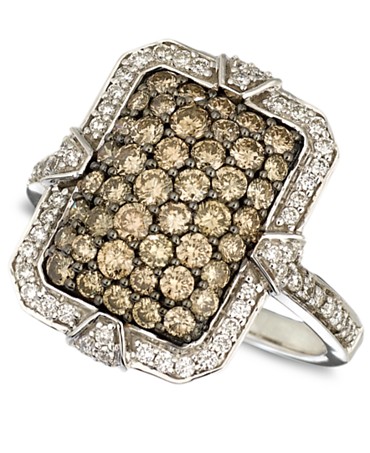 You probably don't have liquid cash saved upfront for every major luxury purchase like this, so pick and choose wisely what you will get the most mileage out of before you spend.  Classic colors and styles are always going to give you more bang for your buck than the new electric yellow cross body bag, so spend cheaply on trendy items and save big for the timeless pieces.
So, what are you waiting for?  Start saving and make this year one that keeps focus on cost vs. benefit.  You'll end up the purchases of your dreams, and you'll save for what really matters for the long haul.