Home for New Year's Eve? Bake White Chicken Enchiladas.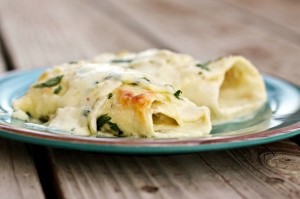 S
o many people are opting for a low-key New Year's Eve at home, but that doesn't mean a good, celebratory meal shouldn't be a part of the evening.  Of course, no one wants to spend the entire holiday night baking, so a simple, filling recipe is the way to go.  To get your tummy primed and ready for some bubbly, try these delicious White Chicken Enchiladas.
Chicken enchiladas with green chili sour cream sauce
10 soft taco shells
2 cups cooked, shredded chicken
2 cups shredded Monterey Jack cheese
3 Tbsp. butter
3 Tbsp. flour
2 cups chicken broth
1 cup sour cream
1 (4 oz) can diced green chillies
1.  Preheat oven to 350 degrees.  Grease a 9×13 pan
2. Mix chicken and 1 cup cheese.  Roll up in tortillas and place in pan.
3. In a sauce pan, melt butter, stir in flour and cook 1 minute.  Add broth and whisk until smooth.  Heat over medium heat until thick and bubbly.
4. Stir in sour cream and chilies.  Do not bring to boil, you don't want curdled sour cream.
5. Pour over enchiladas and top with remaining cheese.
6. Bake 22 min and then under high broil for 3 min to brown the cheese.
Happy New Year, everyone!