Natural Beauty: Make Your Own At Home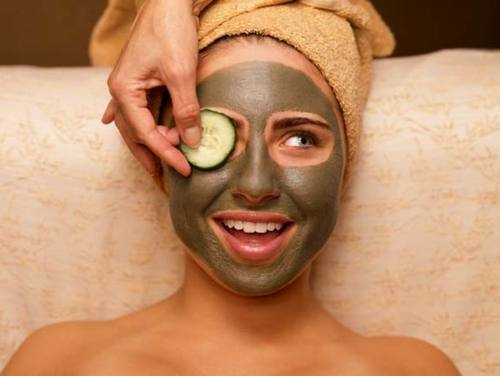 I
'm not really the type of girl who gets earthy and natural with her beauty products, but let's be real here…there's a lot of chemically bad stuff in things we put inside our bodies and on our faces.  Since our skin covers our entire body and soaks in what we put on it topically, shouldn't we stop and think about what we are subjecting it to?
When I stumbled upon InspiringPretty.com, I was enamored with their comprehensive list of natural beauty recipes and whimsical posts about all things cool.  (The sassy ladies behind this site even have an Etsy store with goodies that will make you fall even more in love.) Check out a short list of my favorite natural recipes for your beauty routine made from everyday foods that I pulled from their site, and then head over to InspiringPretty.com to see the rest of the best.
1.) Brown Sugar and Honey Facial Scrub
Brown sugar exfoliates the skin ridding the pores of all dirt, oil and dead skin cells causing blemishes. Honey is naturally antibacterial, so as the brown sugar scrubs away the things clogging pores, the honey cleans out the sources for this buildup to prevent future breakouts.
2.) Coffee Grounds in Conditioner
This one is really simple. Instead of throwing old coffee grounds away, toss them into your conditioner to make your hair extra shiny. That's all it takes!
3.) Replace Conditioner with Vinegar
To get rid of the usual problems with hair: build up, dullness and just lackluster, replace your conditioner with vinegar 1-4 times a month, depending on your hair type. Just use it as you need it. And don't worry about buying the best stuff for the best results, common white vinegar will do the trick as well as any other vinegar.
4.) Olive Oil as Hair Moisturizer
It's easy to see how oil can moisturize your hair. It's simple to use it as well. Simply cover your hair in olive oil and leave it in for 30-45 minutes. You can also wrap it in plastic wrap to keep it from dripping and some believe it enhances the effect.
5.) Lemon and Egg Facial
Have red splotchiness on your face? Soothe both symptoms away easily by mixing together one egg yolk and the juice of one lemon into a paste. Cover your face with it and leave it on overnight. If this seems like too much work, leave it on your face for an hour. You might not get the optimal results with this time, but you will see a difference.
6.) Replace Conditioner with Baking Soda
Want to be more like a guy and only use one thing to clean your hair? Then just add baking soda to your shampoo. It will remove build up and make hair shinier, and you can use it everyday.
7.) Degrease Oily Hair With Lemons and Aloe
Mix together 1 tablespoon of lemon juice and 1/2 teaspoon aloe vera. Mix it together with a normal serving of shampoo. It will get rid of your oiliness in one shower.
8.) Smooth Fizzy Hair With Honey
Add a tablespoon of honey to a litre of water. After shampooing, rinse your hair with this concoction to tame your frizz.