Kristi and Scot Redman: the Forces Behind 'D Style Sheet'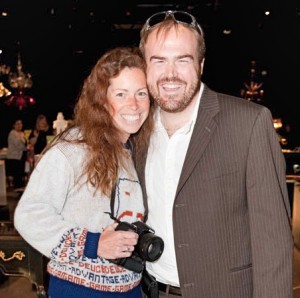 K
risti and Scot Redman, the founders of D Style Sheet (formerly Hilltop Glossy), are film graduates from SMU with an eye for style and a passion for photography. Their cinematic, "capture the moment" style has brought Dallas' fashion and street style to life.
How did you get the idea for Hilltop Glossy?
Scot was finishing his last semester at SMU and we just couldn't get over the fashion changes that were happening on campus. It's so innovative and youthful. It honestly rivals what you see in Paris or London, and we felt that we wanted to share that with the world.
You take such incredible photos, what inspired your "capture the moment" style?
I think our photography style is a direct result of our film degree backgrounds. It's very cinematic, dreamy, and photojournalistic. We always strive to tell a story through the image. And, of course, we're both in love with photography greats like Cartier-Bresson, Robert Frank, Richard Avedon, and Helmut Newton.
You clearly have an eye for fashion, how would you describe your own style?
Since our job is to look at fashion, we are always taking away bits and pieces of it for our own style. It's always evolving, which is very exciting.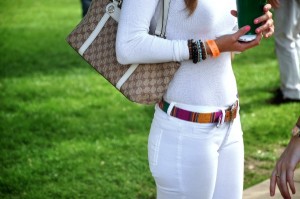 What do you look for when on a shoot? For example, what moments do you look to capture on SMU's campus?
We shoot fashion that is cutting-edge, very personal style, and usually playing with current trends. SMU has created a fashion culture where girls, and guys, experiment with trends, brands, and worldly influences in ways that only stylists and fashion editors interpret looks.
What inspired you to start blogging?
We had been looking at other blogs that were becoming increasingly popular, like The Sartorialist and The Style Rookie and realized this would be the perfect outlet to show the world our view of fashion. That same month of launching the blog, we were lucky enough to meet Scott Schuman at a book signing and he gave us a world of invaluable advice on the world of blogging.
Are you surprised at how many people have taken an interest in your blog?
We knew people would be fascinated with the fashion happening at SMU, like we are, but we never expected as many fans as we have now. Within the first week of the blog our hits were skyrocketing, so I think when you create a blog you'll know very quickly if you've fulfilled a niche.
How has your partnership with D Magazine affected your blog?
At first we were skeptical about shooting the rest of Dallas, because, really, who can compete with SMU. But we've unveiled some very fashionable circles throughout Dallas where everyone looks more cosmopolitan and a little less society. And it couldn't be better timing for us, because Dallas is going through an incredible cultural boom.
What is your favorite part about D StyleSheet?
Our absolute favorite aspect of D StyleSheet is shooting fashion shows! And we love our affiliation with SMU and all of our readers.
What do you have in mind for the future of D StyleSheet?
In 2012, we want to bring NYFW and PFW to Dallas readers for their interpretation. And more than anything, we hope that through D StyleSheet, Dallas is seen at the forefront of fashion by the rest of the world.