Getting Married? Great Guest Idea You'll Love!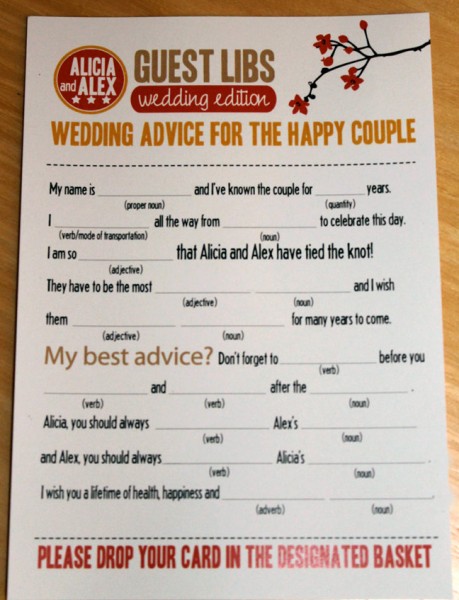 T
his time of year is a popular time to get engaged and marry your sweetheart.  The air is crisp, the good vibes are circulating, and magic is around every corner.  Why not fall in love in the winter, right?
Well, if you're about to take the plunge, I have a fabulous find to use at your engagement party, wedding showers, or wedding reception.  Guest Libs!  Yes, the old school Mad Libs that you giggled over as a child are now re-tooled for adult fun.  (But clean adult fun, mind you.)
Does it get any cuter than this?  Not only is this a fun activity, but when you purchase these, you can print out as many as you would like.  Genius! Plus personalized is always fun…reading these years after the wedding will surely bring laughs.
Check out the Guest Libs (and other fabulous paper goodies,) at Cami Purpura's Etsy Shop, aptly titled Cami's Paperie Customized Designer Paper Goods.  (Oh, and if you act fast, you can take 15% off your order!)