Apple Cider Punch: Drink Up!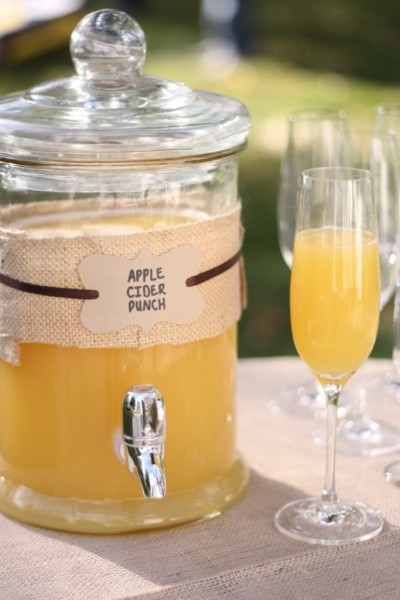 M
mmmm….apple cider.  The smell alone can make you salivate and long for crisp fall nights under a blanket of stars.  Doesn't the mere thought of apple cider conjure images of golden leaves, rolling hills, warm flannel blankets, and a roaring fire?
It's Dallas and it's still 80 degrees outside, but that doesn't mean you can't sip a little cider and bring the fall to you.  Better Homes and Gardens shared a recipe for Apple Cider Punch that is simple and delicious.  Won't you pour a glass with me?
Apple Cider Punch (recipe from BHG)
Ingredients
6 cups apple cider
2 cups orange juice, cranberry-raspberry juice, or orange-mango juice (I used orange juice)
1/2 cup lemon juice
1 750-ml bottle sparkling white grape juice or sparkling wine
Directions
1. In punch bowl, large pitcher, or pitchers combine apple cider, orange juice, and lemon juice. Slowly add sparkling white grape juice or sparkling wine. Serve immediately.
(Photo courtesy of EatDrinkPretty)