Easy Fall Tablescape Idea
F

all

is a great time of year to add a little extra warmth and charm to your house.  Though many people skip decorating for Halloween or Thanksgiving, it can actually be done very inexpensively.  A few cost-effective lanterns from Hobby Lobby, candles from the dollar store, and a handful of beautiful orange pumpkins from the grocery store later and your front porch looks like the cover of Martha Stewart Living for less than $20.
If you'd like to get a little more hands-on "crafty", I found a tutorial for a fall tablescape that is so easy, you'll wonder why you didn't think of it first.
Check out the simplistic beauty of this: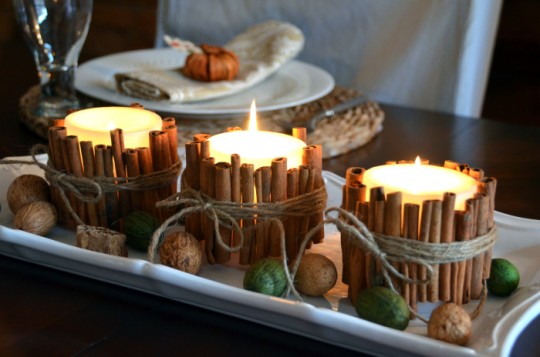 Fabulous Home Stories: A to Z blogger Beth gives you the skinny on how to make your dining table look like that photo.  Can you believe that all it takes is a few candles, cinnamon sticks, rubber bands, and twine?  Call me crazy, but this whole set-up says "Pottery Barn", baby!  Not only will your home look fall-tastic, but it will smell like warm cinnamon. Yummmmmm…
Check out the blog post for the full details and more shots of this fun tutorial.
Hilary Kennedy

Hilary Kennedy is a contributing author for
YouPlusStyle
, focusing primarily on Style, Arts and Entertainment, and Dating and Relationships. Hilary also stars in many videos for
YouPlusMedia
.