Slim Down With Invisibelt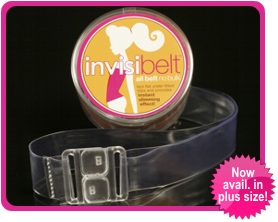 E
ver feel like you need a belt to tighten your jeans and pants (or to help avoid a "plumber effect" when bending over,) but you don't necessarily want the bulk and weight of a heavy belt and belt buckle?  I've struggled with this myself, and if you're wearing your shirt untucked, it can create an unsightly bump in your mid-section.  One of the cool new gadgets designed to help with this problem is the Invisibelt.  I know, I know…sounds too infomercial-esque, but it's actually a very clever idea that I can't believe no one else thought of before now.  It's only $20, and works like a bra clasp.
Now for the features according to the Invisibelt website:
• The invisibelt is virtually undetectable and provides an instant slimming effect.
• Thanks to its flat clasp design, this "No Buckle Belt" lets women wear fitted tops over pants or skirts with no trace of an unsightly belt buckle detected.
• Its unique, adjustable waist size (sizes 0 to 14) makes the invisibelt ideal for the average woman. The plus size belt fits up to a 4X.
• Available in two fashionable colors, Naked (Clear) and Noir (black).

• The original slim belt eliminates the "all too familiar" back gap.
I don't know about you, but I absolutely hate that "back gap" thing that some jeans have.  Even designer jeans have it, and it can result in showing the world your "coin slot", so to speak.  Lucky Magazine, Shape Magazine, Life & Style magazine and many others have featured it, and the word on the street is that many celebs use it to keep their waists cinched without the unflattering belt bulge. Who knew? The next time you're worried about showing off that new purchase from Victoria's Secret unintentionally, you may want to check out Invisibelt and order one just to cover your, er…..backside.