How To: What To Wear Over a Spaghetti Strap Dress (for under $100!)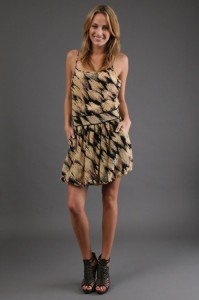 S
paghetti strap dresses are something every woman has in her closet.  You wear them for parties, formal events like weddings, special dates…but how do you get that same dress to work in situations where those skinny straps aren't always appropriate, like in the office or at church? Or how about when the air turns cooler this time of year?
There are a few ways you can style your spaghetti strap dress that will take it from night to day, with the easiest being to add a few layers.  Most women think a simple cardigan will do the trick.  Though a cardigan sweater is definitely a pretty option, it can look a little 1950's June Cleaver.  So, to keep things looking fresh and modern,  how about mixing things up and adding a fitted blazer with rolled up sleeves? You can push the sleeves up or down, and wear a long necklace to add something special.  A skinny belt is also a great way to add a new look and dimension to the dress. An added bonus to this look is that you no longer have to wear a strapless bra or go braless…your straps will be hidden under the blazer and make you much more comfortable.
If you're still wanting to keep things formal and a blazer is too casual, try wearing a pashmina over the dress to keep you warmer, look more polished, and add a pop of unexpected color.  By layering on a a few extra pieces and accessories, you can take a dress that was once for one purpose only, and make it multi-purpose in a no time at all.