What Are They Really Like? Celebrity Tell-All From the Red Carpet
O
ne of the cool things about covering the red carpet for any event is getting up close and person with the folks we normally see on our television screens or in the movie theatre. (Or these days, on Hulu.)  Over the years I've been very impressed with some in their interviews, like Paris Hilton, for example.  She was poised, articulate, and stunning in person-not quite what I had expected.  Some were less than impressive, like Lorenzo Lamas.  (He brought two dates and neither of them seemed to know the alphabet.)  So what is the consensus from the Dallas International Film Festival red carpet interactions?  Here is my personal run-down….
Opening Night I was pleased to chat with the filmmakers of Being Elmo, who were not only some of the nicest people at the festival, but didn't give the feeling they were only there to self-promote.  Connie Marks and James Miller acted as if they were here to also make friends, which makes them cool as a fan in my book.
Outlaw country legend Jerry Jeff Walker was friendly and warm, and seems to still have an affinity for lovely ladies.  His wife is a knockout!  There may be snow on the roof, but there's clearly fire in the furnace.  He is a man who has seen it all and done it all, and isn't afraid of anybody.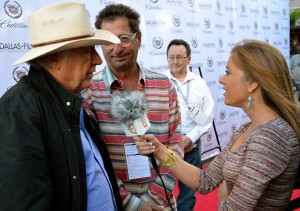 Morgan Spurlock is every bit the showman that he comes across as on his films, like "Super Size Me" and "POM Wonderful Presents: The Greatest Movie Ever Sold".  He is incredibly sharp, witty, and knows his shtick backwards and forwards.  He talked fondly about his son like any loving dad.  Awwwww.  (Consequently, he had to use a "stunt son" in the film during the bathtub scene. Go see the film and you'll see what I mean.  His real son couldn't deal with having his hair washed on camera.)
Ann Margret is every bit the glamorous icon you would expect, but not in an intimidating way.  Her soft, breathy voice makes you listen intently to every word.  You find yourself understanding why The King fell for her, as did the entire country with her sex appeal.  I can only hope at that age I have her style and beauty.  Plus, she's just a nice lady!  She kindly remarked that our director of photography, Jeremy West, has a name fit for Hollywood as she shook his hand hello. She also recounted a story about her husband, Roger Smith giving her a beautiful gift of diamonds in Central Park late at night.  Hellllllooooo, romance!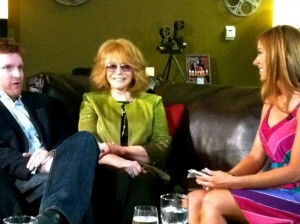 Dennis Quaid blew into town to promote his film "Soul Surfer" and seemed anxious to get down the carpet and relax.  He talks to reporters like he knows them personally, but without the fluffy "How do you do" small talk that many people feel obligated to.  Dennis was cordial and posed for photos, and word on the street was he came into town to make this appearance even though his wife wasn't feeling well.  It's great to see someone support Texas cinema like that.
These are just the tip of the iceberg, but what I've come to realize is that our state draws the warmth and friendliness out of people.  Sure, it's already there in most of the celebrities that come our way, but there's something about our hospitality that makes them feel more at ease.  Yeehaw!
* Jerry Jeff Walker photo courtesy of www.pingwi-fi.com