Thom Browne, So Hot Right Now
M
ost of us have heard of the Crew, but the designer of Michelle Obama's  necktie-inspired coat and dress for President Obama's second inauguration doesn't ring too many bells. Who is this Thom Browne, where did he come from, and where can I buy a coat by him?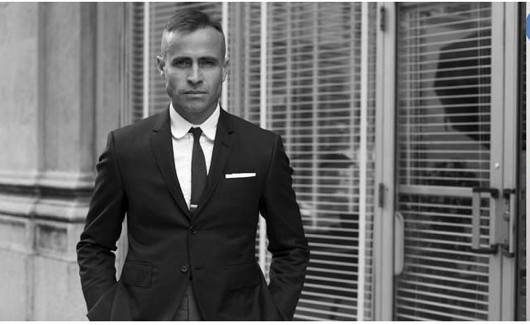 Turns out, Mr. Brown has quite the resume, including an undergraduate career at Notre Dame. I'd wonder how he feels about the Manti Te'o situation, but he probably has bigger fish to fry. Named "Menswear Designer of the Year" by the Council of Fashion Designers of America (CFDA) and GQ in 2006 and 2008 respectively, Brown has worked with well-known brands such as Ralph Lauren Club Monaco and Moncler, debuting his own women's line in 2010. He is best known for his influence over the modern, streamlined men's suit.
The guy also puts on a mean (albeit slightly terrifying) fashion show.
Where can you find Mr. Browne's Mad Men-esque designs? Not living in New York is a bit of a disadvantage, as the flagship store is located in TriBeCa, but most luxury retailers in the US carry Thom Browne, including Nordstrom.
I have always loved Michelle Obama's decision to mix well-known brands with less commercial, but just as worthy designers. She is an incredible role model for so many reasons, but it never hurts a first lady to be as chic and impeccable as possible.