Guilt-Free Mac & Cheese
I
love Christmas parties. I get giddy every time a Facebook invite or Paperless Post comes my way. However, I cannot say the same for my waistline, and as much as I enjoy a great peppermint or holiday-themed baked good, I tend to crave salty foods before sweet. So in an effort to avoid tipping the scales and to offer an alternative for like minded salt lovers at all those holiday parties, I'm bringing something different this year: Guilt-Free Mac & Cheese.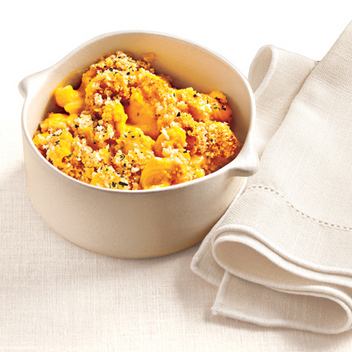 It sounds like an oxymoron, but the good people at Cooking Light included this recipe in their new cookbook The New Way to Cook Light and my heart melted like a stick o' butter. But how can you make guilt-free mac & cheese without it tasting like that mystery dish I tried in my short-lived vegan phase? According to Cooking Light, the secret is in the butternut squash. Pair it with milk and Greek yogurt and the mac & cheese maintains that creamy, comfort food texture without the added calories.
Here is the recipe written out by Glamour
Creamy, Light Macaroni and Cheese
Recipe from The New Way to Cook Light
Hands-on time: 1 hr. Total time: 1 hr. 25 min.
Ingredients:
3 cups cubed peeled butternut squash(about 1[1-pound] squash)
1 1/4 cups fat-free, lower-sodium chicken broth
1 1/2 cups fat-free milk
2 garlic cloves, peeled
2 tablespoons plain fat-free Greek yogurt
1 teaspoon kosher salt
1/2 teaspoon freshly ground black pepper
1 1/4 cups (5 ounces) shredded Gruyere cheese
1 cup (4 ounces) grated pecorino Romano cheese
1/4 cup (1 ounce) finely grated fresh Parmigiano-Reggiano cheese, divided
1 pound uncooked cavatappi
Cooking spray
1 teaspoon olive oil
1/2 cup panko (Japanese breadcrumbs)
2 tablespoons minced fresh parsley
Directions:
1. Preheat oven to 375 degrees.
2. Combine first 4 ingredients in a medium saucepan; bring to a boil over medium-high heat. Reduce heat to medium, and simmer until squash is tender when pierced with a fork, about 25 minutes. Remove from heat.
3. Place hot squash mixture in a blender. Add yogurt, salt, and pepper. Remove center piece of blender lid (to allow steam to escape); secure blender lid on blender. Place a clean towel over opening in blender lid (to avoid splatters). Blend until smooth. Place blended squash mixture in a bowl; stir in Gruyere, pecorino Romano, and 2 tablespoons Parmigiano-Reggiano until well combined
4. Cook pasta according to package directions, omitting salt and fat; drain well. Add pasta to squash mixture; stir until combined. Spread mixture evenly into a 13×9-inch glass or ceramic baking dish coated with cooking spray.
5. Heat a medium skillet over medium heat. Add oil to pan; swirl to coat. Add panko; cook 2 minutes or until golden brown. Remove from heat; stir in remaining 2 tablespoons Parmigiano-Reggiano cheese. Sprinkle evenly over pasta mixture. Lightly coat topping with cooking spray.
6. Bake at 375 degrees for 25 minutes or until bubbly. Sprinkle with parsley; serve immediately.
Nutritional information: Calories 390; Fat 10.9g (sat 6.1g, mono 2.1g, poly 0.4g); Protein 19.1g; Carb 53.9g; Fiber 3.2g; Chol 31mg; Iron 2.4mg; Sodium 589mg; Calc 403mg
(photo via)