Posted
November 15, 2012 by Megan Bursey
in Fitness
Better For You Banana Muffins!
T
is the season for baking lots of yummy goodies! If you're like me, banana bread is one of your favorites. I love to make it for breakfast or for a midmorning snack with my coffee. However, I insist on making my own since I can better control what I am eating and what ingredients go into them. I have tried a few different recipes and finally found my FAVORITE version. It is another BusyButHealthy.com winner that I wanted to share with you all!
The recipe originally called for mini loaves, but I have an addiction to muffins so that is what I went with! Fee free to make either, just beware that the baking time will be shorter for the muffins.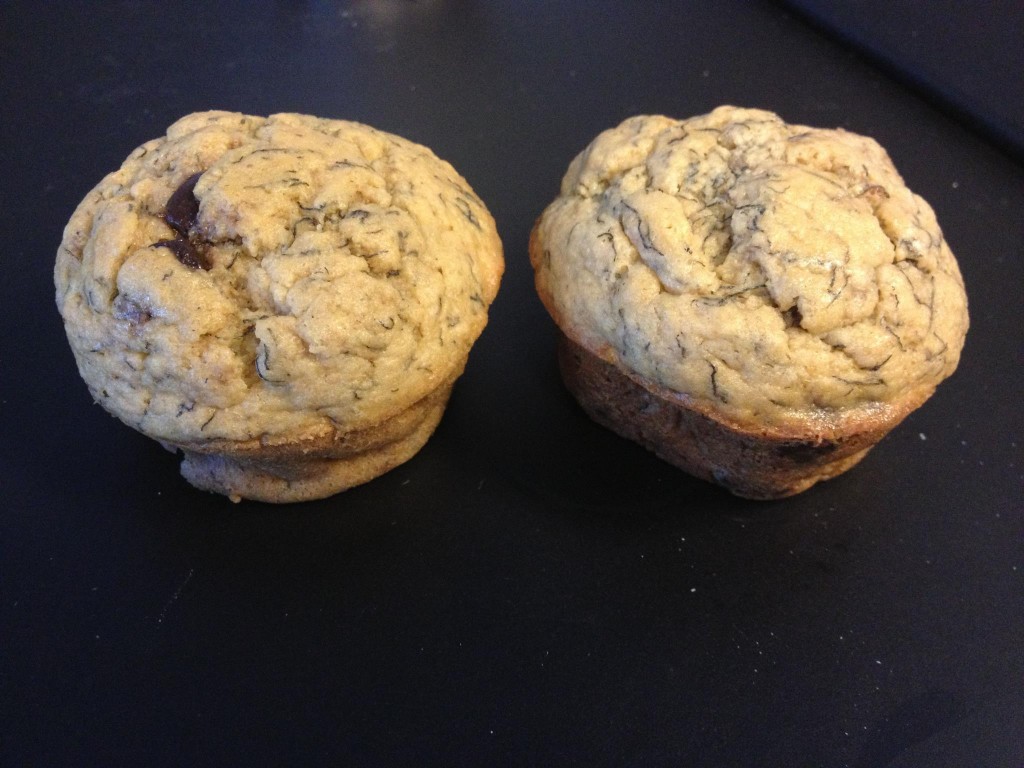 Makes 12 Muffins
1 1/2 cups oat flour (I used Bob's Redmill.. but you can also make your own from plain oats)
1/2 cup whey protein (I used Dymatize Elite Gourmet in Vanilla.. you can also use plain or any other brand you like!                                                    1 tsp baking soda
1/2 tsp baking powder
1/3 cup Stevia baking formula (or any other sugar substitute)
1/4 cup semi-sweet chocolate chips
3 egg whites (1/4 cup plus 2 Tbsp carton kind)
3 mashed brown (ripe) banana's
1/3 cup unsweetened applesauce (or 1 snack pack)
*NOTES:
– It's possible to use plain brown rice protein in this recipe instead of whey.  Increase Stevia to 1/2 cup, add 1/4 cup water to wet ingredients.  Nutritional information will change.
– You can also omit all protein and add an extra 1/2 cup of oat flour.
Preheat oven to 350 degrees F.  In one bowl, mix all the dry ingredients together (oat flour, protein powder, baking soda, baking powder, stevia) and the chocolate chips.  In another bowl, whisk together wet ingredients (egg whites, banana, applesauce).  Add wet ingredients to dry and mix until well blended.  Spray a non-stick mini loaf pan or muffin tin.  Pour in batter and bake at 350 degrees for 15-20 minutes, until firm on top.  Again, cook longer if in loaf pan, or shorter if in muffin tins.
Nutrition (per muffin)
Calories: 131 Fat: 2.8g Carbs: 22g Fiber: 3.5g Sugars: 7.2g   Protein: 7.6g
These are awesome as a mid morning snack! I encourage you to check out BusyButHealthy.com for some more great ideas! Let me know what you think and check back for my upcoming recipe on Barbeque Turkey Meatloaf!