Healthy Breakfast Lovers Rejoice! Blue Corn Breakfast Tacos with Scrambled Eggs, Smoked Salmon, Avocado + Dill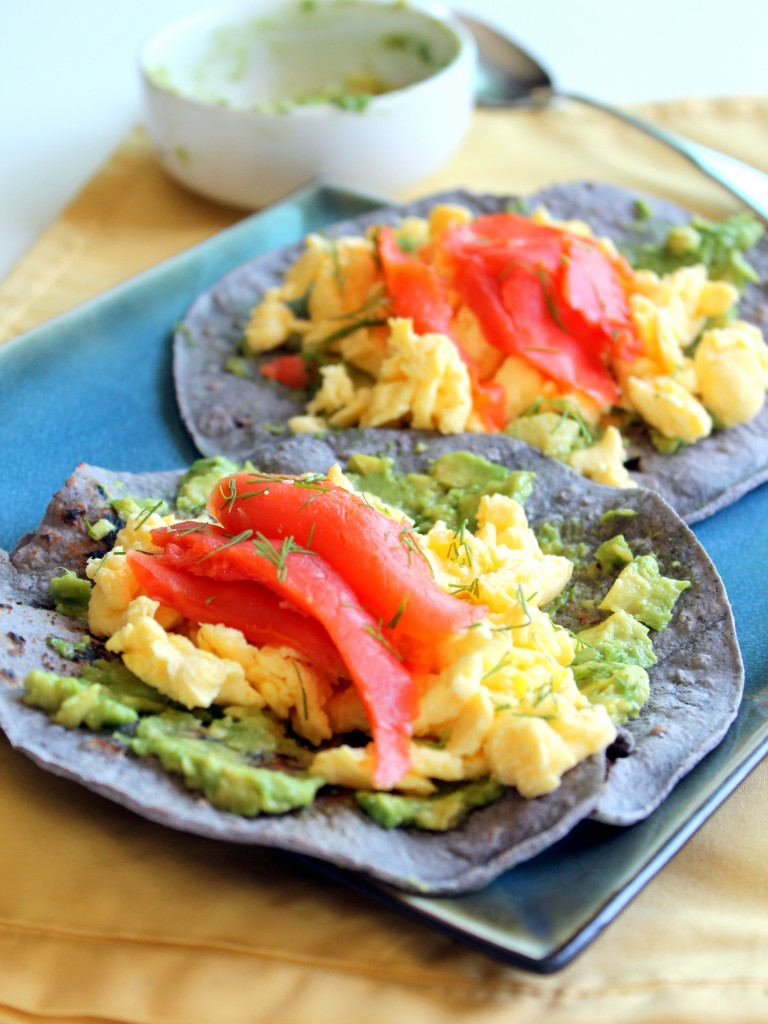 A
fter graduating from college in May and being kicked out of the comfort of my sorority house thus losing my beloved chefs, I was forced to (gasp) make my own meals. I made trips to the grocery store, meandering the aisles for hours wondering what to buy. It proved to be a little too daunting for me, resulting in an endless supply of Lean Cuisines and Annie's burritos. But a girl can't live on frozen food alone. I was always hungry and always tempted to get a Crunch Wrap Supreme from Taco Bell (it's too good y'all), so I decided to change my eating habits FAST before people started to mistake to me for a member of the Honey Boo Boo clan.
What I discovered was that eating clean and healthy is totally amazing, but you need to be inspired and you have to make it fun. Blogs and Pinterest have been HUGE for me. Seeing pictures of fabulous meals filled with goat cheese, avocado, Portobello mushrooms and (my favorite) poached eggs totally changed my mindset about eating healthy. A turkey burger pita with avocado and feta and side of sweet potato fries looked SO much better than a Baconator from Wendy's.
My new favorite blog (like ever), Ambitious Kitchen, is actually amazing. It's food porn that's totally doable and really makes you want to get in the kitchen and make it, not just drool at the pictures. The blog's creator, Monique, gives you a lot of healthy, yummy recipes but gives you some to indulge with every now and then. No need to deprive yourself completely of things you love! I'm going to share one of my favorite, easy and healthy recipes in the hopes that you will get as addicted to this little food blog gem as I have.
Blue Corn Breakfast Tacos with Scrambled Eggs, Smoked Salmon, Avocado + Dill
Author: Monique
Recipe type: Breakfast, Tacos, Entree, Dinner, Healthy
Prep time:  5 mins
Cook time:  5 mins
Total time:  10 mins
Serves: 2
Blue corn tortillas stuffed with scrambled eggs, smoked salmon, avocado, and dill make this an incredible breakfast taco.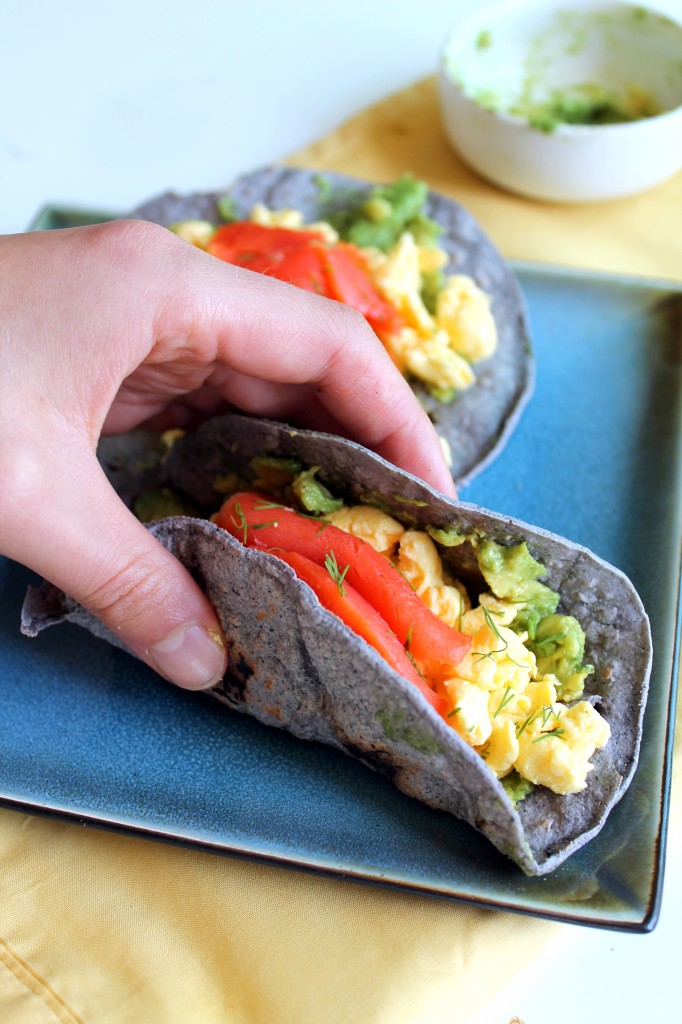 Ingredients
1 teaspoon butter
3 eggs + 3 egg whites
1 teaspoon milk
1 avocado, halved, pitted, peeled, smashed
1 teaspoon fresh lemon juice
4 oz. thinly sliced smoked salmon
4 blue corn tortillas
1 teaspoon fresh dill, chopped
sea salt and fresh ground black pepper
Instructions
Place avocado in a medium bowl and mash with a fork, add lemon juice and stir. Season to taste with salt and pepper and set aside.
In a large bowl, beat eggs and milk. Next melt butter in a medium skillet over medium-low heat. Add egg mixture and cook, stirring occasionally until large curds begin to form. When eggs look barely set, remove from heat immediately. Season with salt and pepper.
Warm your tortillas in the microwave or over a gas stove on low heat so the edges become slightly golden brown and crispy.
Spread mashed avocado over each blue corn tortilla. Spoon eggs over avocado and add salmon over the eggs, top each with a bit of dill and add salt and pepper to taste.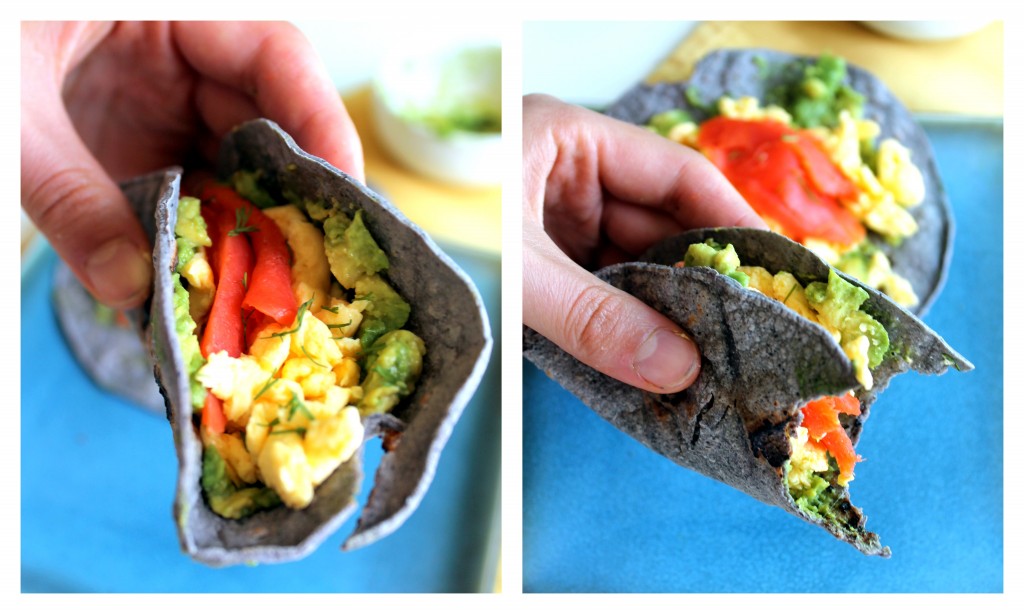 (photo's via) 
xoxo