The New Face of Louis Vuitton: Michael Phelps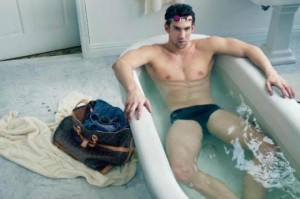 J
ust when you thought you'd heard the last about Michael Phelps at the London Games 2012, he makes his way back onto your radar (and in a very chic way)! According to Just Jared, the Olympian with the most gold medals in history was recently shot by Annie Leibovtiz for a new Louis Vuitton campaign. The image shows Phelps in a swimsuit and goggles in a classy white tub; Louis Vuitton monogrammed bag to his right.
As much as I admire Michael Phelps, I've always thought he looked a little bit like a monkey man, but Leibotiz masterfully photographed the Olympian to look like a smoldering, perfectly sculpted and very handsome model. The ad campaign along with his new reality gig on the Golf Channel ensure Phelps' future beyond the games, in case anyone was worried about him.
What do you think about Michael Phelps as a new face of Louis Vuitton? Hot or not?
(photos via)