Tweezerman's ProCurl Lash Curler For Curler Connoisseurs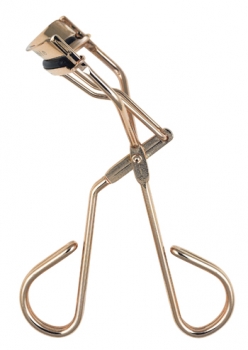 ven when I'm claiming to 'not be wearing any makeup', I'm almost always wearing mascara and I have almost always curled my eyelashes. I love my eyelashes, but like most blondies I HATE when they are mascara-less. It makes my eyes look naked. Unacceptable.
I've tried several eyelash curlers (and always remained slightly terrified that I would accidentally hack of my lashes) and I have finally found the one. My true love of eyelash curlers is Tweezerman's ProCurl Lash Curler. Not only is it the coolest curler I've seen with its rose gold color, my fear of suddenly becoming eyelash-less was put to rest with its pinch-proof design and narrow top bar that adapts to all eye shapes.
I decided to put this curler to the test yesterday by curling my lashes and not following with mascara. Two, count em TWO people complimented me on my fancy lashes, which has forever convinced me that Tweezerman and I are a match made in lash heaven.
Pick yours up at your local pharmacy or visit www.tweezerman.com
Caitlin Clark is the Arts & Entertainment and Style Writer and Social Media Director for YouPlusDallas. Follow her on Twitter at @caitlinclark